Expand
How do I submit service requests if cx.rightnow.com is unavailable?
Answer ID 11095 | Last Review Date 10/02/2019
How do I submit service requests if cx.rightnow.com is unavailable?
The Oracle B2C Service backup site, https://cx-backup.custhelp.com, was created to ensure that we can continue to provide you uninterrupted support for high severity issues even if our primary site, cx.rightnow.com is in a maintenance or update window. During those windows, the backup site will be enabled, and you'll be able to contact us through an Ask A Question form there. We do ask that this service only be used to report high severity issues – if your issue doesn't reach that level, please be patient and we'll get back to you as soon as our maintenance or update is complete.
As part of the implementation for the backup site, we've asked that already existing cx.rightnow.com users log into the backup site once to finalize account creation there. As we don't have visibility into the login credentials you use on cx.rightnow.com, we aren't able to export those credentials to the backup site ourselves, so this is necessary as a first step to ensure that you can log into both sites with the same login & password. The account creation form just asks you to confirm your user name and password: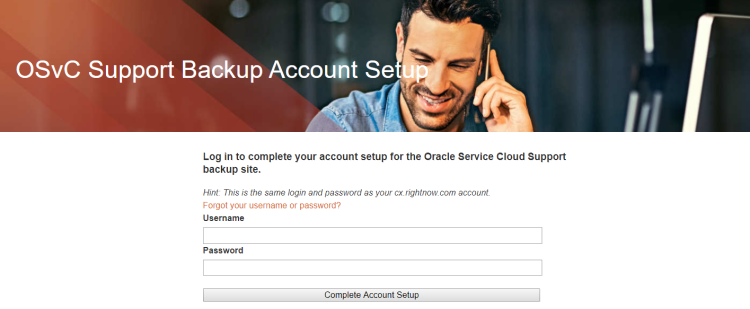 If you have an account created after October 7th 2019, you will not need to take this action as your credentials were automatically synchronized upon account creation.
Available Languages for this Answer:
Notify Me
Login
The page will refresh upon submission. Any pending input will be lost.