Expand
Chats are being merged when launched from different interfaces by the same user
Answer ID 8602 | Last Review Date 04/03/2019
What happens when an end-user launches two simultaneous chats on separate interfaces?
Environment:
Chat, End-user pages
Resolution:
Chat runs on the entire site and when a chat session is created, a unique session id is being inserted into the 'chats' table. If a user opens 2 chats from 2 different interfaces, for the second one, they will receive the following warning message in customer portal: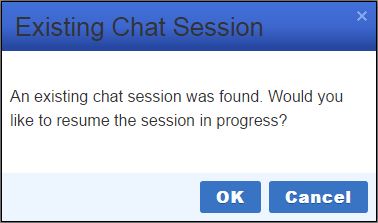 This behavior occurs because these chats will be merged as they are launched from the same session id.
Notify Me
Login
The page will refresh upon submission. Any pending input will be lost.