Expand
Report columns do not appear in exports
Answer ID 7740 | Last Review Date 12/12/2018
Why are all columns not appearing in report exports, or are collapsed when exporting to Excel?
Environment:
Analytics, Enhanced console
Oracle B2C Service
Issue:
When exporting a report from the console, in Excel some columns are hidden (width=0), while in PDF format they are missing completely.
Resolution:
The specific columns have the width set to a "Specific Width:", other than "Percentage" or "Pixels".
To fix this, the following needs to be performed:
1. Open the report in edit mode
2. Click on a column not visible in the export
3. On the ribbon, navigate to the Format tab, and click on expand for the Display section: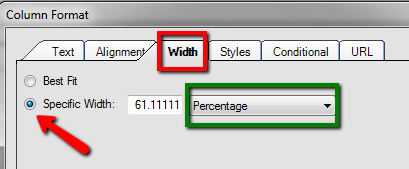 4. In the newly opened window, navigate to the Width tab
5. Here, check the Specific Width and select any measure between "Percentage" and "Pixel"; or choose "Best Fit"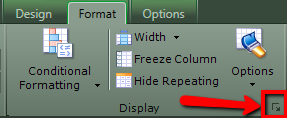 6. Repeat steps 2 through 5 for all columns that do not show up properly in the export
7. Save the report and re-run it. The export should not show all the columns.
Notify Me
Login
The page will refresh upon submission. Any pending input will be lost.