Expand
Standard report is queuing
Answer ID 5094 | Last Review Date 11/14/2018
Why is my standard report queuing when it has never done so before?
Environment:
Standard Reports
Oracle B2C Service Analytics, All versions
Issue:
One of our standard reports now processes too much data and wants to queue every time it is run. We would like to fix.
Resolution:
This behavior is likely because the report has been set to "deferred execution". It will be set to deferred execution any time the report takes longer than 60 seconds to run and will remain deferred until an individual manually disables this option within the report.
For a standard report, it is also possible to change the data source. Running reports from the Report Database allows them to run larger queries (i.e. historical month- or year-end reports).
Use the steps outlined below to change the deferred and data source options:
1. Open the standard report in Edit mode (right-click > Edit from Explorer or Edit Report Definitions from navigation area)
2. From the ribbon, select 'More Options. (November 2016 and earlier, the 'More Options' button is in the lower left-hand corner of the report area.)
3. In the "Edit Settings" pop-up window, uncheck "Set report to deferred execution"
4. Set Data Source as needed
5. Click "OK"
6. Save the report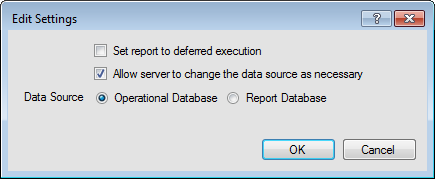 NOTE: If the report becomes deferred again, please ensure your agents have not adjusted the search filters in a way that would cause the report to process too much data and thus want to queue.

For information on modifying the deferred or data source options for custom reports, refer to Answer ID 4493: Custom report always queues now, when it has not in the past.
For additional information, refer to the 'Queuing reports' section in the Online Help User Guide documentation for the version your site is currently running. To access Oracle B2C Service manuals and documentation online, refer to the Documentation for Oracle B2C Service Products.
Available Languages for this Answer:
Notify Me
Login
The page will refresh upon submission. Any pending input will be lost.