Expand
Checking Upgrade Site Creation/Production Site Cutover Status in Configuration Assistant
Answer ID 12092 | Last Review Date 02/17/2022
How can I find the status of my B2C Service site during version update when there is no email notification?
Environment:

Oracle B2C Service, Version Update
Configuration Assistant provides the upgrade site creation and the production site cutover status information for Oracle B2C Service version updates. Details of how to access Configuration Assistant and the user manual can be found in the answers below:
(1) Upgrade Site Creation Status
The upgrade site creation status can be found under the Manage My Update - Upgrade Site Status section. While the upgrade site creation is being created the Upgrade Site Status shows one of the following status:
Waiting for Verification

Waiting to Clone

Being Created
Once the upgrade site creation completes, the Upgrade Site Status changes to "Active". The upgrade site can then be accessed by using the URL listed on the Oracle site information page: https://cx.rightnow.com/app/hosting/site_info.
The cutover status can be found under the Manage My Update - Production Site Status section. While the cutover is running the status shows "Cutover in Progress" and when the cutover completes the status changes to "Cutover Complete". For more information about the Production Site Status, please refer to the answer below:
Note

: Configuration Assistant does not auto-refresh so please use the refresh button to update the site status information displayed on the page: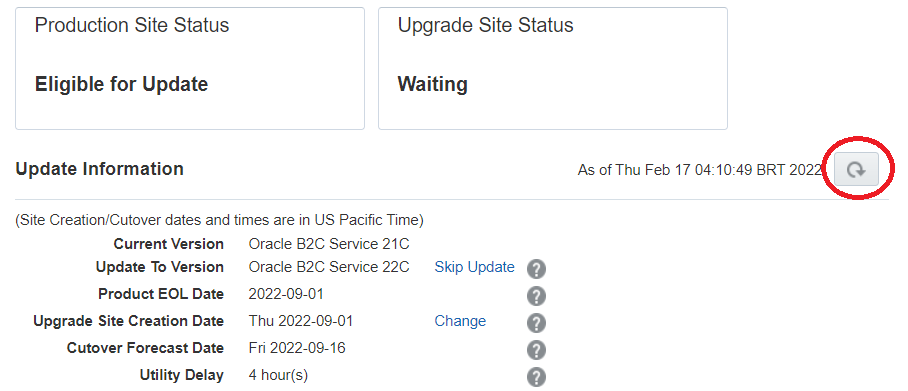 Available Languages for this Answer:
Notify Me
Login
The page will refresh upon submission. Any pending input will be lost.