Expand
Standard reports in Oracle B2C Service
Answer ID 68 | Last Review Date 08/14/2019
What are the standard reports in Oracle B2C Service?
Environment:
Analytics, Management Reports
Resolution:
Oracle B2C Service includes several standard reports for your benefit. These reports include a wide range of information that have been pre-defined to give you insight into usage and performance regarding your site.
These reports allow you to gain insight as to how your site is being utilized by your customers and how effectively staff members are working in your applications. Many reports offer a unique presentation of data, and some reports contain similar information presented in different ways. Report output can be in either graphical or tabular form.
Catalog of Reports
Beginning with the May 2013 release, a new component is available to help CX administrators view information about reports. The Report Management component provides access to a set of standard reports intended to help CX administrators track information. With this, you can produce a Catalog of Reports that displays the report descriptions of the standard reports you are interested in. You can find and add the Report Management component to your navigation set as follows: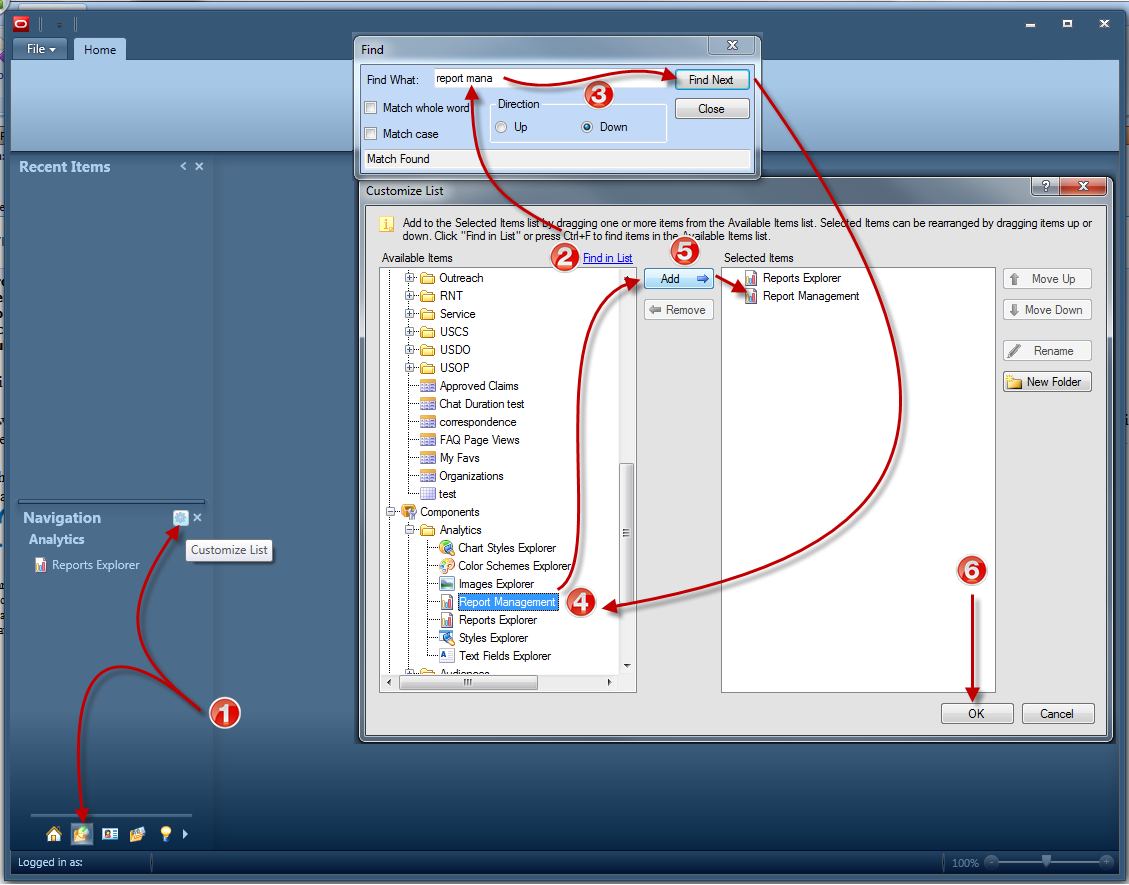 Click to enlarge image
From Report Management, you can generate a Catalog of Reports using these steps:
1. Analytics button > Report Management
2. Expand the Definition folder
3. Double click on View Report Descriptions
4. In the search window that opens, select the reports you want to view
NOTE: By default, all reports are selected, but since this is a required filter, you need to specify the reports you are interested in. You can select all the reports in a top-level folder by selecting the check box next to the folder.
5. Click the Search button to run the report
For additional information regarding this component, refer the 'Management Reports' section in online documentation for the version your site is currently running. Refer to the 'Producing a catalog of reports' section for information on that feature. To access Oracle B2C Service manuals and documentation online, refer to the Documentation for Oracle B2C Service Products.
Additionally, the Oracle B2C Service Customer Community forum contains dedicated threads for Reporting and Analytics for Service so that Oracle B2C Service users can discuss Analytics topics in more depth.
Scheduled Reports
Staff members can be subscribed to receive reports on a regular basis. You can also subscribe non-staff members to receive report subscriptions on a regularly scheduled basis. For more information on report subscriptions, refer to Answer ID 1796: Subscribe People to Receive Reports.
Caching Report Data
When using the reports feature in Oracle B2C Service, you should understand caching and how it affects your report data. For additional information, refer to Answer ID 1917: Cached data used in reports
Available Languages for this Answer:
Notify Me
Login
The page will refresh upon submission. Any pending input will be lost.