Expand
Visual Email Editor
Answer ID 4466 | Last Review Date 12/18/2018
What is the Visual Email Editor?
Environment:
Workspace Thread Control
Resolution:
Visual Email gives you the ability to send and receive rich text emails.  Beginning in the November 2011 release you can display, edit and respond to HTML-formatted emails which will enhance the experience for your customers.
Sites upgrading from a previous version must enable the configuration verb EGW_VISUAL_EMAIL. This will enable techmail to accept HTML content in incoming email data.  New sites do not have to enable this configuration verb. 
Path to edit setting:
1. Select Configuration > Site Configuration > Configuration Settings
2. Click RightNow Common
3. EGW_VISUAL_EMAIL is located under category Service Modules > RightNow Email
In addition, if you are upgrading your site you must make sure your incident workspace has the new control: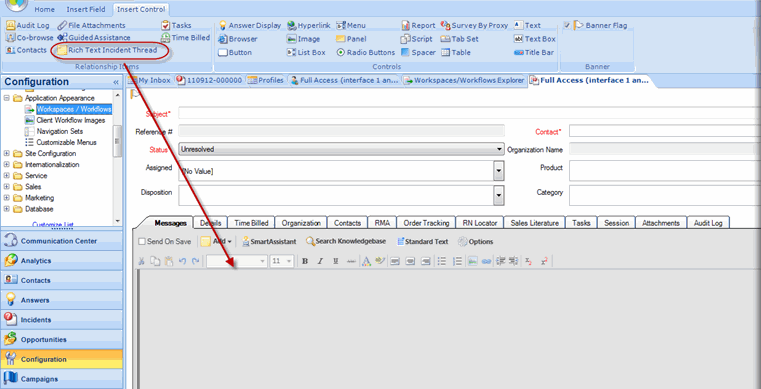 Make sure your profile is set to use the workspace where you enabled the Rich Text editor.
You can insert images into an incident. Images are stored in the file attachments table.

There are 3 ways of inserting images:
Copy and Paste images
Image by URL
Upload an image

With the new visual email you will see a new toolbar, similar to the one in answers:

This enables you to change the font, the font size, bold the font, copy and paste, undo, and many other options seen above.

Available Languages for this Answer:
Notify Me
Login
The page will refresh upon submission. Any pending input will be lost.