Expand
Pre-screen Pop in B2C Service Chat
Answer ID 2794 | Last Review Date 07/21/2022
What is the Pre-screen Pop in B2C Service Chat?
Environment:
Oracle B2C Service, Chat Toast Notification to Agents
Resolution:
The Toast Notification (or pre-screen pop) gives agents quick access to basic customer information so that the agent/customer interaction can begin sooner. The information delivered in the notification window can be formatted as a two-column table that allows agents to view additional information about customers.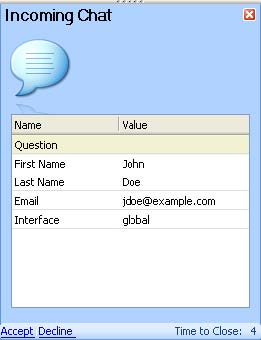 The information that displays on the preliminary screen pop table can be specified using the CHAT_ALERTFORM_DISPLAY configuration setting. You can also disable the preliminary screen pop using the CHAT_ALERTFORM_ENABLED configuration setting.
Path to setting(s): Select Configuration from the navigation area > Site Configuration > Configuration Settings > and search by Key.
For more information on accessing the Configuration Editor and editing settings, refer to Answer ID 1960: Editing Configuration Settings.
Notify Me
Login
The page will refresh upon submission. Any pending input will be lost.