Expand
Unable to add Proxy User in OM Admin UI
Answer ID 12074 | Last Review Date 02/14/2022
Why am I not able to add a Proxy User in Oracle Messaging?
Environment:
Chat, Oracle Messaging
Oracle B2C Service (OSvC)
Issue:
While setting up Oracle Messaging in OM Admin UI, I am trying to add a Messaging-Agent Browser UI Proxy User, but I am getting this error, although my credentials are correct:
The credentials you entered are invalid. Enter a valid username and password.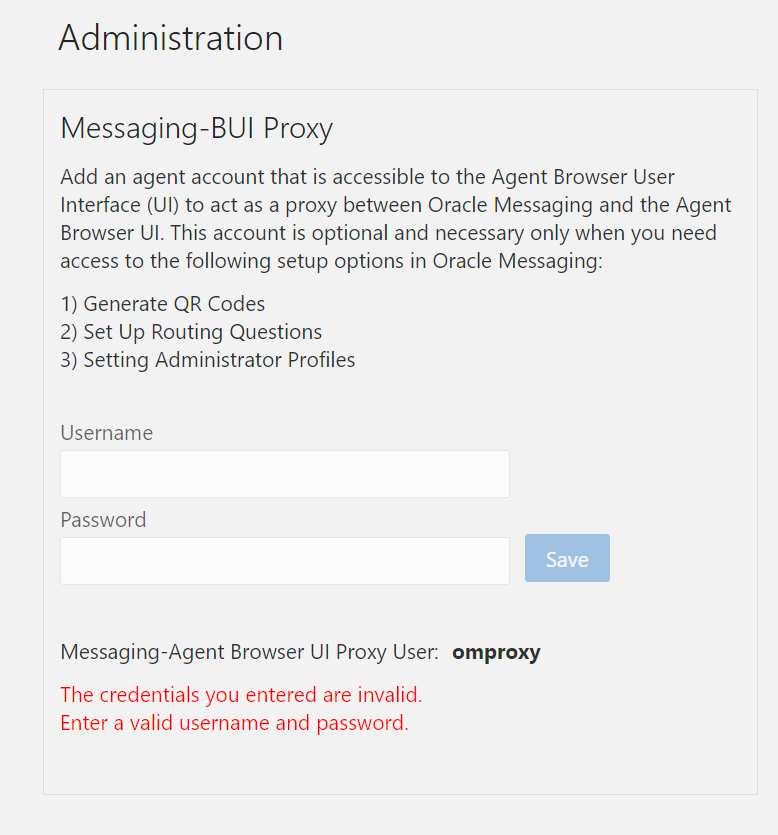 Click to Enlarge Error Message
Resolution:
This message can be encountered if the account is forbidden to execute REST API calls.
If there are any IP addresses added already in the configuration setting SEC_PAPI_INTEG_HOSTS_REST, you should also add this IP address to the list of allowed hosts:

147.154.97.0

If there are any domains already added in the configuration setting PAPI_CORS_DOMAIN_LIST, you should also add this domain to the list of allowed domains:

https://www.oracle.com
This will allow Oracle Messaging to access the public REST API interface.
For more information on accessing the Configuration Editor and editing settings, refer to Answer ID 1960: Editing configuration settings
Note: If the configuration settings mentioned are blank (default), you should not make any changes, as this will prevent other hosts from accessing the REST API interface and can interfere with other implementations.
Notify Me
Login
The page will refresh upon submission. Any pending input will be lost.