Expand
Best Practices for acquiring new subscribers into a mailing list
Answer ID 9645 | Last Review Date 01/14/2019
What are Oracle-approved methods for acquiring new subscribers into my mailing list?
Environment:
Outbound Email Deliverability Best Practices
Outreach, Feedback
Resolution:
Deliverability Impact
This answer is part of the Email Deliverability Best Practices doc community. Each answer's intention is to contribute to the betterment of the email community. These answers are only related to outbound messages, and do not have any impact to the improvement of inbound deliverability. For more information regarding deliverability's role at Oracle B2C Service, please review the following answer:
Email Deliverability Group (EDG) and Spam Considerations and Policy

Quick Look
>> Customer acquisition methods detail the means by which a subscriber can be added to a mailing list.
>> Consent MUST be collected from all customers in order to be messaged by a sender
>> Oracle requires consent prior to mailing
>> Failure to properly acquire customers can lead to reputation issues such as blocking, blocklisting, and bulking, and is a violation of global mailing requirements

Overview
Oracle recommends utilizing a closed loop confirmation or double opt in across all acquisition channels. This is the best means of determining that a contact is valid, active, and engaged in receiving content. Not utilizing this will drive hard bounces and spam complaints among new subscribers, leading to bulking, blocking, and blocklisting as a result.

Acceptable Methods
Click to enlarge image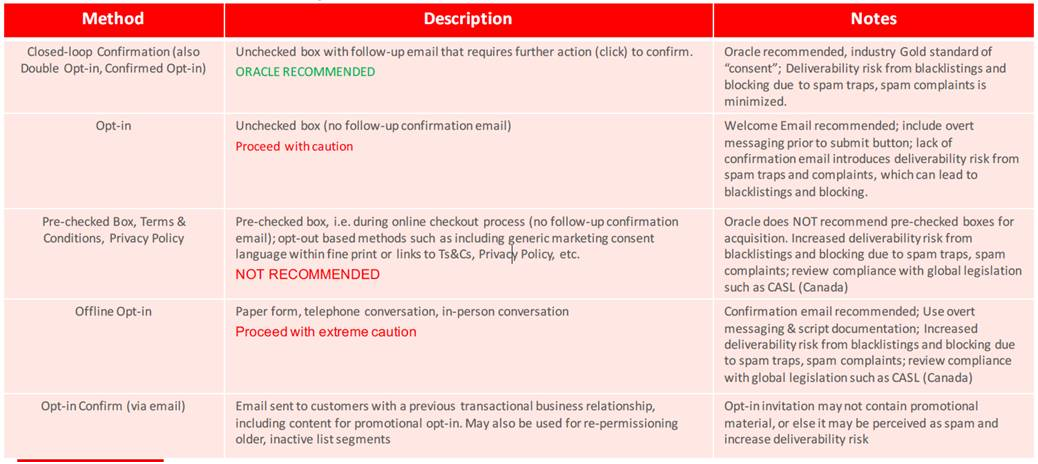 Closed Loop Confirmation (Double Opt-in)
Following an initial opt-in request or action (e.g., form submit), a confirmation email is subsequently sent to notify the person that some action is necessary before his or her email address will be added to the list.
The "double opt-in" method is considered the cleanest and highest level of permission and is especially appropriate for offline acquisition
Users report better deliverability, open, and conversion rates
At time of acquisition, make it clear that individual must respond to email in order to complete subscription process
Include CAPTCHA to reduce malicious signups and blocklisting risk

Opt In
Introduces higher level of deliverability risk as opposed to COI
Use CAPTCHA/ reCAPTCHA on all web forms for collecting email addresses
Requires user to take proactive steps to subscribe, therefore considered opt-IN vs the lesser opt-OUT approach
Make it clear that checking the box means opting IN for promotional email
Trigger welcome email (or series) for new subscribers to set expectations
Require customer to enter their email twice to help reduce the likelihood of typos

Unchecked Box
Separate section during the checkout process that allows customer to sign up for reward benefits
Requires the subscriber to manually enter email address to be opted-in

Checked Box
Pre-checked Pre-checked box presented during the checkout process
If a visitor does not deselect the check box and submits the form they are automatically subscribed to emails
Make it clear that a pre-checked box means that users will begin receiving email if they do not change selection (uncheck the box)
Assumes prior business relationship
Following up with a Welcome email is highly encouraged

Offline Opt-in
Offline acquisition can happen at any point of customer contact, typically as part of a regular business transaction occurring in a call center or during an in-store visit or purchase
Develop data entry plan for swift inclusion in your database for timely email triggers
Email validation services may reduce invalid/ undeliverable addresses but they will not help avoid spam traps, spam complaints, blocklistings and blocking
Oracle recommends confirming opt-in permission via email
Immediately trigger a welcome or confirmation email, and personalize email with reminder/details about the opt-in source
Do NOT incentivize sales or service personnel as that can create significant list quality and deliverability issues

Opt-In Confirm
Marketers have a unique opportunity to acquire email subscribers through email itself
The "primary purpose" of the email should still be deemed "transactional"
More than two-thirds of your email content, whether text-based or graphical, must be information related to the transaction
Recipients will not react favorably if they have to weed through copious amounts of commercial content within their transactional confirmations

Oracle Impact
Oracle is a devoted practitioner of permission-based marketing, utilizing industry best practices for all clients. The industry gold standard for collecting consent in customer acquisition is a closed loop confirmation or double/confirm opt-in. All senders MUST collect permission in order to mail on Oracle networks.
Additional References
Answer ID 1966: How do I create an Unsubscribe link to use with our mailings?
Answer ID 2674: Email address captures from "forward to a friend" links
Notify Me
Login
The page will refresh upon submission. Any pending input will be lost.