Expand
Login window prompting to download Branding Image
Answer ID 8279 | Last Review Date 06/27/2019
Why is an agent being prompted to download the image in the frame on the right of the login window?
Environment:
Oracle B2C Service, All supported versions
Issue:
Upon launching the console, an agent is being prompted to download the image set in the BRAND_CONTENT_URL configuration setting versus displaying it in the right hand portion of the launch window as it should.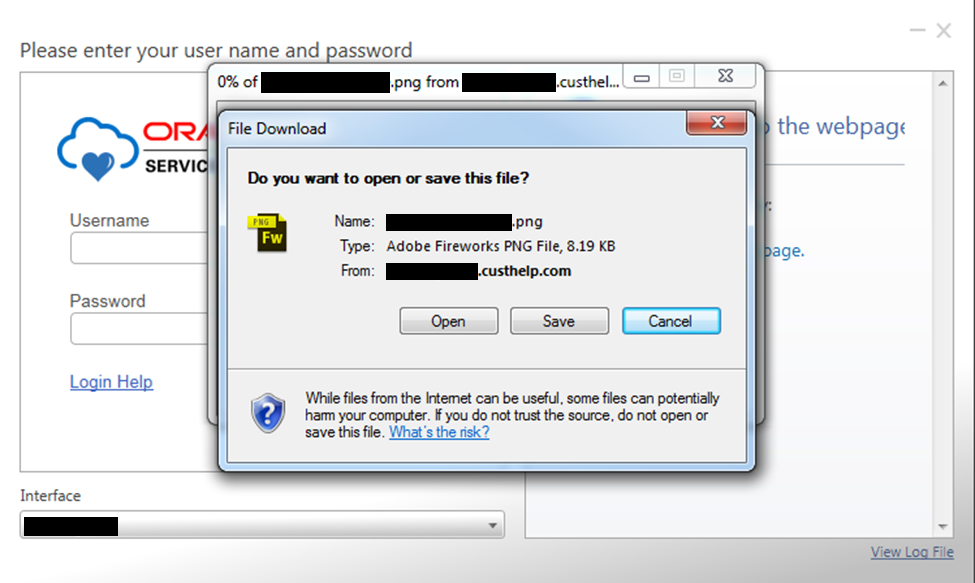 Click to enlarge image
Resolution:
To resolve this issue, review the configuration setting for the BRAND_CONTENT_URL. It can be found in the Navigation Set by selecting Configuration->Configuration Settings the BRAND_CONTENT_URL setting is located under RightNow User Interface/Tool Bar/General. You will want to copy the URL you find there into a browser location box and see if the link is accessible from the web. Check for accuracy of the URL, looking for spellng errors. If everything is correct and the image is not accessible via a browser, you will likely need to work with your local IT to see if there is policy, or network infrastructure (permissions/firewall) issue blocking access to the URL.
You would also want to ensure that the file type of the image is supported by Oracle B2C Service. Using other file types can cause the image not to display.
The setting requires a fully qualified domain name to display the web page,or image file.
Cause:
This is not an issue with the Oracle B2C Service product but an issue with the workstation caused by a third party software and can manifest when the BRAND_CONTENT_URL configuration setting is set to the URL of an image. The third party software corrupts the class and MIME settings for specific image file formats, i.e. .PNG, .JPG, etc.
Notify Me
Login
The page will refresh upon submission. Any pending input will be lost.