Expand
Viewing the time and time zone in the console
Answer ID 8100 | Last Review Date 02/10/2020
How do I view the time and time zone in my console?
Environment:
All supported versions of Oracle B2C Service
Resolution:
Agents using the Oracle B2C Service application have the option to view the time and time zone of their console. The time zone is an interface specific setting generally designated when the interface was created. To view the time and time zone, follow the steps below.
In the upper left-hand corner of the console, select the File tab

Roll the mouse pointer over "Options" and then

"View Options"

In the panel on the right side of the message box under 'Status Bar', select both "Show server time in the status bar" and "Display Timezone"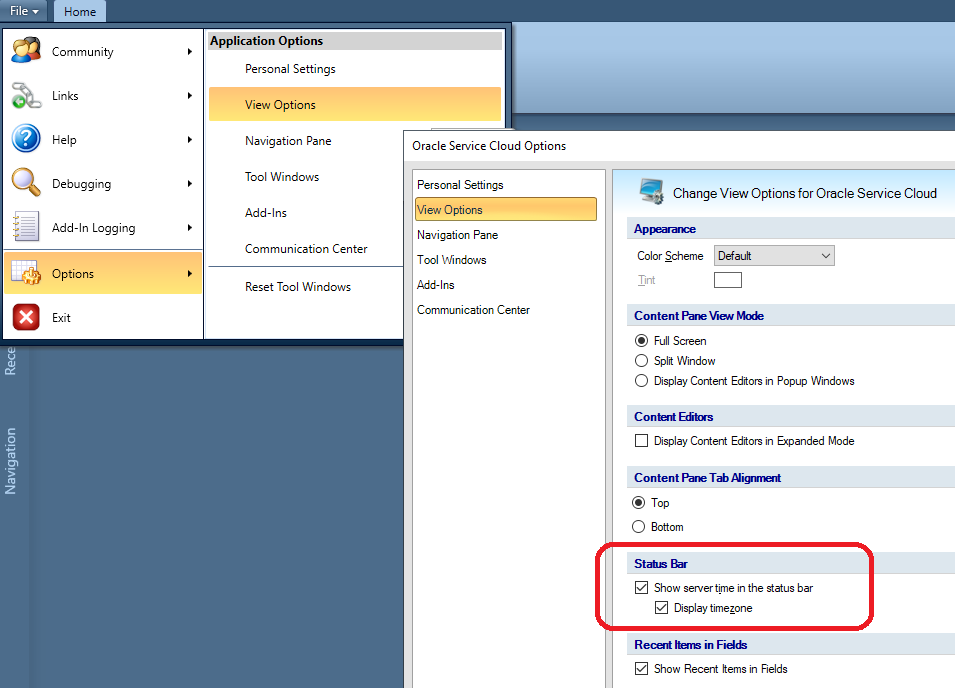 Note

: Even though the option states "Show server time", the time displayed in the status bar is actually the time in the time zone designated for the interface which the agent has accessed.

For additional information, refer to the 'Change your view options' section in the Online Help User Guide documentation for the version your site is currently running. To access Oracle B2C Service manuals and documentation online, refer to the Documentation for Oracle B2C Service Products.
Notify Me
Login
The page will refresh upon submission. Any pending input will be lost.