Expand
SmartAssistant Autotuner Best Answer Button
Answer ID 6893 | Last Review Date 05/18/2020
How do I add the Best Answer button to my incident workspace?
Environment:
SmartAssistant Autotuner, Best Answer
Resolution:
SmartAssistant contains an autotuning feature that reviews the effectiveness of your current configuration and automatically makes adjustments and suggestions to improve results. A tuned, optimized SmartAssistant can improve incident deflection rates and produce information that can be used to refine the knowledge base and provide guidance to agents. The autotuner enhances the search algorithm by closely tracking answers that have been appended to the incident thread as a link or text, or that an agent has explicitly identified as the answer that best resolved an incident.
In order to identify an answer that best resolved an incident, you must first have the 'Best Answer' button to the ribbon in an incident workspace. This is generally enabled by default in the standard incident workspace:

However, if it is not, use the steps below to enable it within the ribbon:
Open your incident workspace or copy the standard one and edit that.

Click the 'Ribbon' button, the Ribbon Designer opens.

Click the 'Edit Tab' button

Double Click 'Related Activities'

Click 'Add Buttons' button

Select Best Answers, click OK

Click OK to close Ribbon Designer

Save incident workspace changes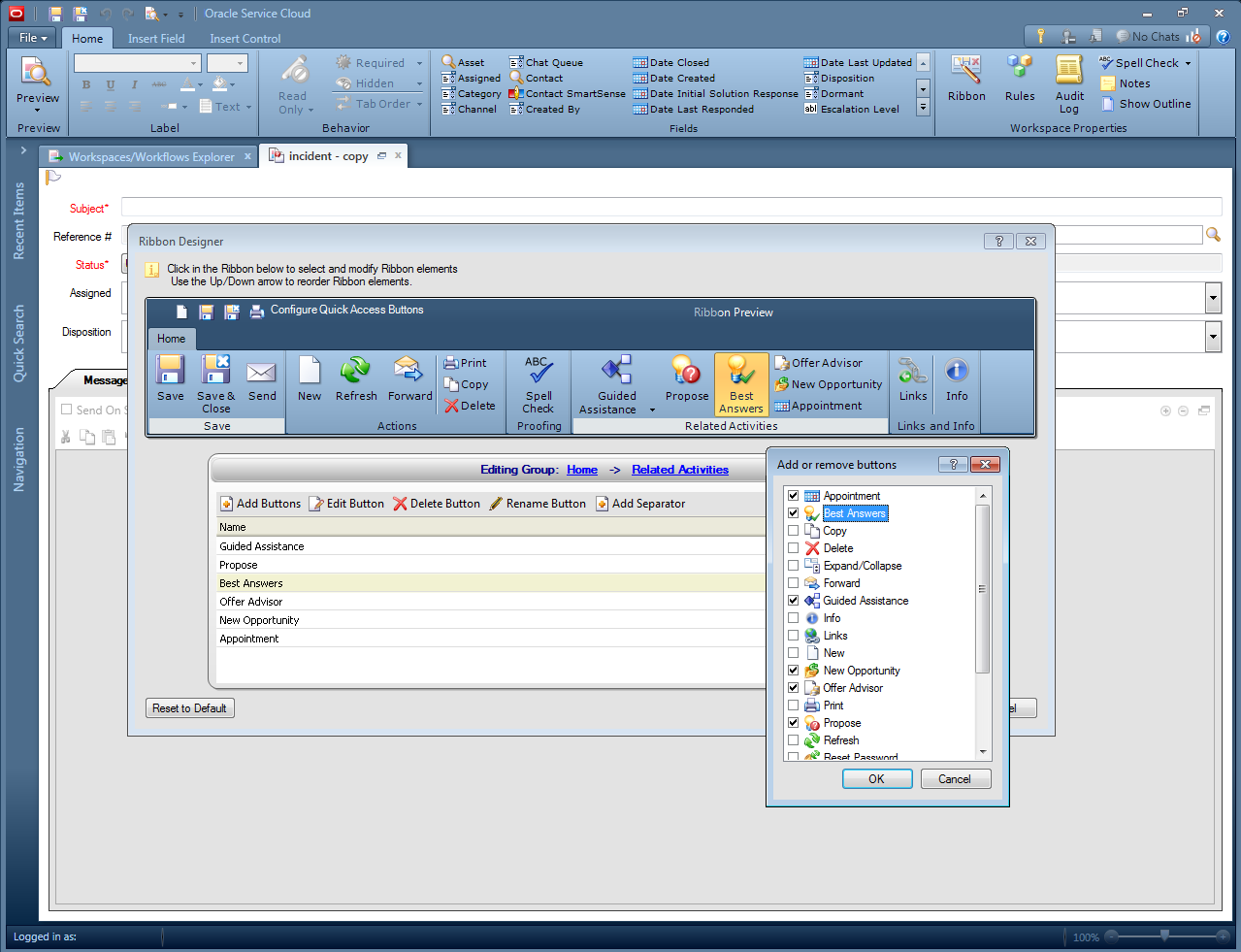 For additional information, refer to the 'Mark an answer as the best answer' section in the Online Help User Guide documentation for the version your site is currently running. To access Oracle B2C Service manuals and documentation online, refer to the Documentation for Oracle B2C Service Products.
Available Languages for this Answer:
Notify Me
Login
The page will refresh upon submission. Any pending input will be lost.