Expand
Printing custom fields with Message Templates functionality
Answer ID 5689 | Last Review Date 12/30/2018
How do you print your custom fields in an incident or contact with the Message Templates functionality?
Environment:
November 2012 and newer releases, Message Templates
Resolution: 
Message templates functionality allows you to customize the print templates that are used for viewing records and items from the agent desktop as well as printing hardcopies of your records, including any custom fields you may have added to the workspace.
As of the November 2013 release, standalone print templates are available for the available record types, such as incidents, answers, tasks, organizations, contacts, opportunities, and quotes. Print templates can be customized to apply your organization's brand, add dynamic content, and display custom fields you may be using. 
In addition, print templates have been designed to include a list of file attachment links. As long as file attachments exist in the record that the print template references, then that list of attachment links will display.
For detailed information and procedures about how to customize your print templates, see Message Templates in the online documentation for your version.
Printing:
When you print incident, contact, task, opportunity, answer, organization, and quote records, the format of the hardcopy is defined by the 'Admin Forward Incident' and the 'Contact Forward' message templates. Using message templates, you can easily customize these templates with your custom field.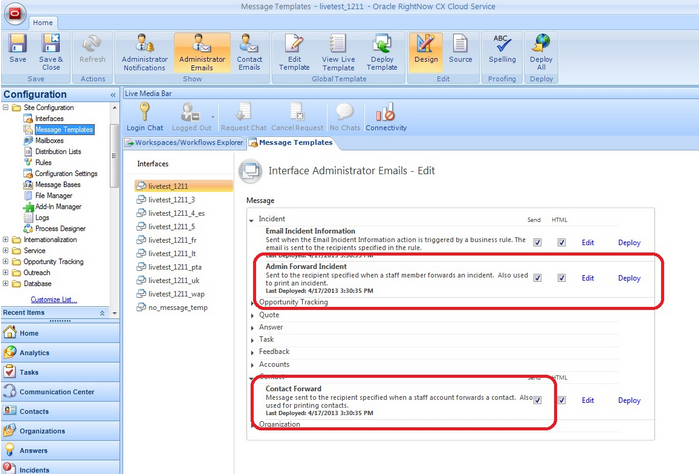 For detailed information and procedures regarding message templates, see the online documentation for your version.
Notify Me
Login
The page will refresh upon submission. Any pending input will be lost.