Expand
Enhanced Branding of mailboxes
Answer ID 4350 | Last Review Date 11/26/2019
What enhancements are there to the branding of mailboxes?
Environment:
August 2011 and newer releases, Mailbox branding
Resolution:
Beginning in the August 2011 release there are enhanced Mailbox Branding features:
Optional field added to the mailbox configuration
Allows for easier branding of your emails
Use the "Friendly From / Branded Address" field for the from email address your recipients will see in Service and Outreach emails. Please note, this must be a valid email address.
The "Envelope From/Bounce Address" should stay as the RightNow provided address in order for bounces to be handled properly. When you reply to the incident response, it is sent to the email address in the "Envelope From/Bounce Address" field.
Increased personalization/relevancy for service emails
Sets a default Friendly From address, not just on a per-mailing basis
Reduced opportunity for configuration issues due to changing the Envelope From preventing bounces from being processed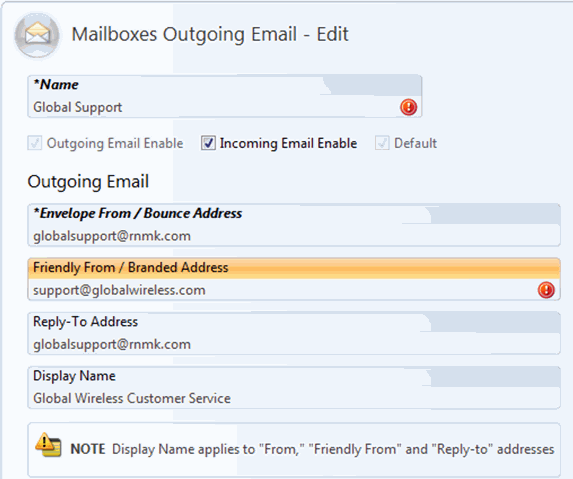 To access Oracle B2C Service manuals and documentation online, refer to the Documentation for Oracle B2C Service Products.
Available Languages for this Answer:
Notify Me
Login
The page will refresh upon submission. Any pending input will be lost.