Expand
Using Customize Record Commands for Reports
Answer ID 4317 | Last Review Date 02/10/2020
What do Customize Record Commands do in reports?
Environment:
Analytics, Ribbon
All versions
Resolution:
The Customize Record Commands function lets you pick which records you can edit from a report and which record and action that will occur when you double click.
Based on the tables used in an individual report, the report designer displays a list of available commands. The report author can then choose certain commands to be available or unavailable to a report user at run time. If a report user has proper permissions, all selected commands will be visible.
For example, if you had a report with records, you could remove the ability to open records. If you have permissions, these commands will be available at run time. If you disable the permissions, the commands will not be seen in the ribbon.
Where to access it: Edit Report > "Records" button on Home tab. Note that a table must first be selected in the report for the Records button to become available.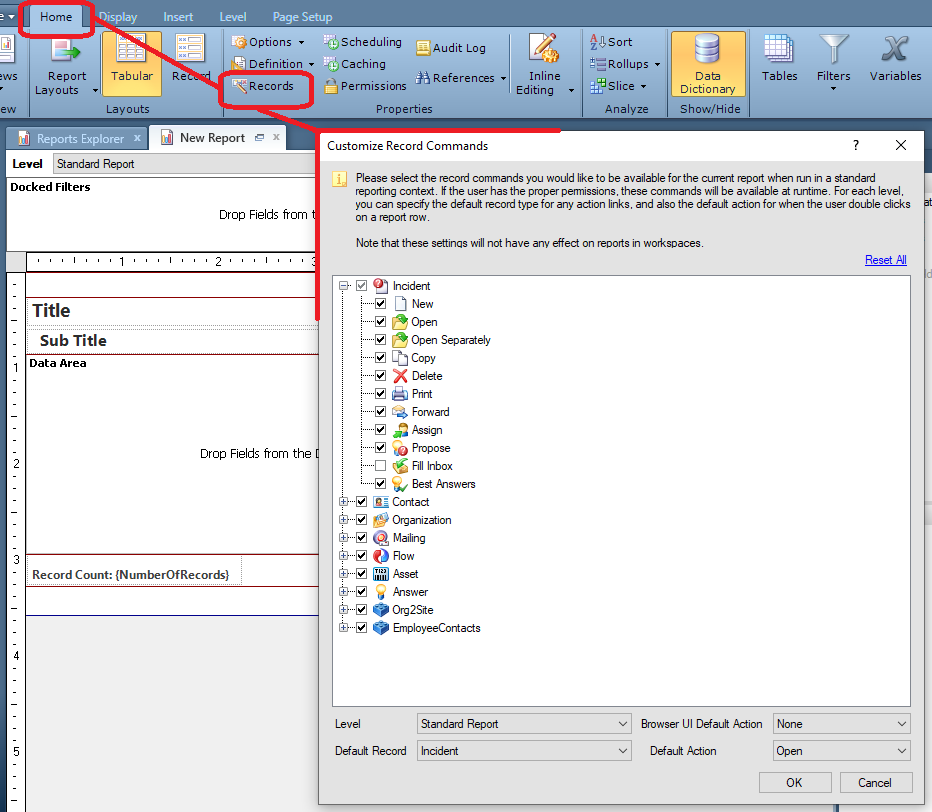 For additional information, refer to the Specify the Record Commands to Display on a Report section in the Online Help User Guide documentation for the version your site is currently running. To access Oracle B2C Service manuals and documentation online, refer to the Documentation for Oracle B2C Service Products.
Notify Me
Login
The page will refresh upon submission. Any pending input will be lost.