Expand
Syndicated Polling Widget
Answer ID 4293 | Last Review Date 02/10/2020
What is the Syndicated Polling Widget?
Environment:
Syndicated Polling Widget
Oracle B2C Service, May 2011 and newer
Resolution:
Beginning in May 2011 release, you can add the ability to create single question surveys (a poll) on Customer Portal pages or to syndicate those questions to external sites, especially high traffic customer pages.
This feature will leverage the customer portal syndicated widget framework to create a one question polling survey that can be added to any page on the web. This will give you the ability to create a widget that will ask a question, then on submit, show either the results for that question or show a thank you message. This will enable the feedback product to have a presence outside of the basic survey functionality.
The widget is the end-user facing poll appearing on the customer's web site. The appearance of the widget is completely customizable via CP CSS (Customer Portal Cascading Style Sheets) and attributes as well as the question editor. You can add charts to the poll results.
Examples: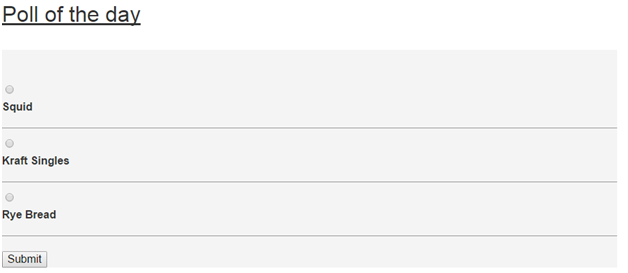 Results Display as:

To create a survey poll from the Agent console:
Select the Surveys tab from the Navigation set, then choose the Surveys Explorer, select New from the ribbon at the top.
Choose Polling Survey
Add the questions you want to rotate in the survey from the Questions List tab, you can activate or deactivate the individual questions.
In Survey Options, choose to include a chart
Click save
For Customer Portal v3.x:
See Tag Documentation in the CP Site Administration pages for the Polling Widget




Use the syndicated widget wizard to customize your polling widget.


For additional information regarding polling, see Answer ID 7934: Syndicated Conditional Chat
Notify Me
Login
The page will refresh upon submission. Any pending input will be lost.