Expand
Outlook Email Integration
Answer ID 2719 | Last Review Date 03/18/2019
What new Outlook Integration features are available beginning in February 2009 release?
Environment:
Outlook Integration
February 2009 and newer
Resolution:
With Outlook Integration, agents can sync their Outlook email to create or update contacts or incidents in Oracle B2C Service - even if no associated email exists in the Oracle B2C Service database at the time of synchronization.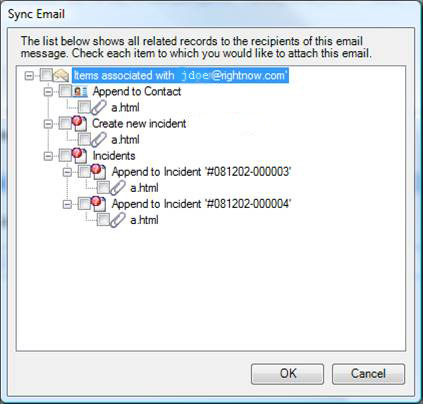 Sync Email dialog box
To install Outlook integration
Close Outlook.
From the Console, click the Application button and select Links > Install Outlook Integration. The Outlook Sync Setup wizard opens.
Click the Next button to open the Select Installation Folder window.
* We recommend that you install Outlook integration at the default location of C:\Program Files\RightNow Outlook Sync.
To install Outlook integration in a different location, click the Browse button, select the folder where you want to install Outlook integration, and click the OK button.
To see a list of the drives where Outlook integration can be installed, click the Disk Cost button. Click the OK button when you are finished.
If you are the only staff member who uses your workstation, select the Just Me radio button.
Or
If other staff members have accounts on your workstation and must also use Outlook integration, select the Everyone radio button.
Click the Next button to open the Confirm Installation window.
Click the Next button to begin the installation. After the installation is complete, the Installation Complete window opens.
NOTE: Agents will require admin rights to the workstation to install Outlook integration.

Outlook Integration profile settings have been moved to a separate tab. In previous releases, these settings were accessed from the Sales tab in the Profiles Management and Configuration page.

For more detailed instructions on customizing and using Outlook Integration, refer to the 'Configuring Outlook integration' section in the Online Help User Guide documentation for the version your site is currently running. To access Oracle B2C Service manuals and documentation online, refer to the Documentation for Oracle B2C Service Products.
Available Languages for this Answer:
Notify Me
Login
The page will refresh upon submission. Any pending input will be lost.