Expand
Oracle Field Service Login and API domains Deprecation
Answer ID 12036 | Last Review Date 06/13/2022
Are there any actions that I need to take to prepare for OFS Login and API Portals removal?
Oracle Field Service (OFS)
login.etadirect.com
api.etadirect.com
As announced in
OFS 22A What's New
, the
https://login.etadirect.com
and
https://api.etadirect.com
URL schemes, used as one of the options to access Oracle Field Service are deprecated and not recommended for use. Authentication requests using these domains might be served by any of Oracle data centers causing additional redirects to a data center where the target Oracle Field Service environment is running. This might result into extra latency, increased rate of errors, and possible issues related to data residency. Review and change your current integrations and if needed, change the address to use the standard <instance_name> URL scheme. This change will improve authentication time and adhere to government and corporate policy regulations related to data residency by ensuring the request is directed to the proper data center. OFS supports two domain zones, and each environment is provided with a set of domains: the legacy etadirect.com and the new
.fs.ocs.oraclecloud.com
.
Below you will find the actions required in both Test and Production instance types prior to the login.etadirect.com and api.etadirect.com being removed.
If your Login Policy (i.e., SAML, OpenID) is still configured to use an outdated metadata file ('Generate metadata using
login.etadirect.com
(not recommended)'), you will need to change the configuration:
Ensure you are on a Test instance as changes are

irreversible

.
Under OFS Domain and Metadata, click the Download button and select the <instance_name>.fs.ocs.oraclecloud.com you will use to redirect requests from your Identity provider to the OFS environment. Download the metadata file.
Upload the new metadata file to your IdP server and

ensure

you are able to authenticate at this instance using <instance_name>.fs.ocs.oraclecloud.com/policy_name/ URL scheme.
Only

after

validating your access in Test instance continue to perform the same set of actions in production.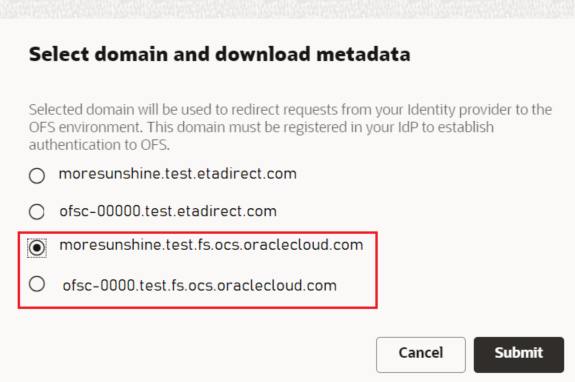 For Incoming traffic

(Customer >> Oracle): domains *.etadirect.com and *.fs.ocs.oraclecloud.com are both added;

For the Outgoing traffic

(Oracle >> Customer) the JSON file with the IP Address Ranges (see IP blocks with tag "OSN" that belongs to your OCI regions) is implemented.
Frequently Asked Questions
We do not anticipate any downtime after the Login and API Portals removal as long as you take all measures to migrate to the earlier announced standard URL scheme.
It is not possible to refuse/cancel the removal of the API/Login Portals.
No further changes to the Client ID/Secret are required. The authentication structure stays the same as mentioned in REST API for Oracle Field Service. The only change is from the single point of contact API Portal to the instance-defined URL (that is, from api.etadirect.com.to <instance_name>.fs.ocs.oraclecloud.com).
Stay updated and subscribe to any future changes by using the "Notify me" button on the panel to the right.
If you have any other questions or concerns in the meantime, do not hesitate to submit a Service Request to the
CX Portal
or
contact us directly
.
Available Languages for this Answer:
Notify Me
Login
The page will refresh upon submission. Any pending input will be lost.