Expand
How to check configuration changes to a specific resource
Answer ID 9885 | Last Review Date 01/13/2022
Who/when performed changes on a specific resource configuration?
Environment:
All versions of Oracle Field Service (OFS)
Issue:

I am unable to identify who/when changes were performed to a Resource.
Resolution:
In order to check for changes related to a specific resource (changes in Calendars, Workzones, Workskills, hierarchy of the Resource in the Resource Tree) you need to access "Resource History" in the Resource screen.


If you do not see the button, it means that the User Type associated with your user does not have have this option configured. To configure the button you need to follow steps:
Go to

Configuration

->

User Types

Select, on the User Type list on the left, the one that you want to give access.
Once selected click on the tab

Screen Configuration

Under

Application screens

, click on the link

Resource/User info

to modify this context
On the left section, click on of the properties already configured and click

Group

In Tab Type, select

Resource History

. Type the name (and translation if necessary) and hit OK

(see image below)

Add a ReadOnly visibility and save.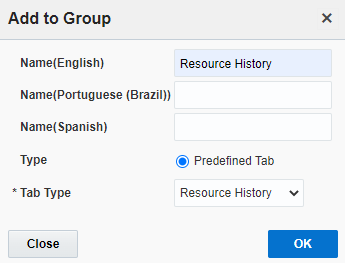 You will now be able to check the Resource History with any user that has the modified User Type.
Available Languages for this Answer:
Notify Me
Login
The page will refresh upon submission. Any pending input will be lost.