Expand
Direct URL to Customer Portal Development pages
Answer ID 9832 | Last Review Date 01/27/2019
How can we get a direct link to any given page of the Customer Portal Development area?
Environment:
Customer Portal (CP)
Oracle B2C Service, All versions
Resolution:
To get a direct link to pages in the Customer Portal development area, use the steps below:
1. Go to the Customer Portal Administration area
2. Click on the Development Mode icon
3. Navigate to the page that you want a direct link for
4. Open the widget at the top that shows what area of the customer portal you are on and the version
5. Click on Links and Resources and check for the direct link, as shown in the image below: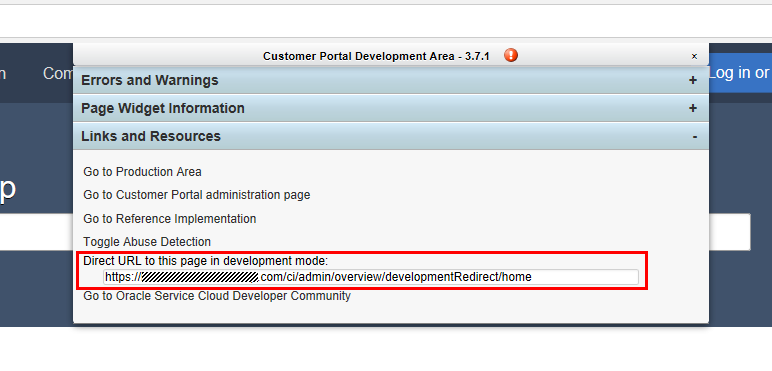 Note: As the development area is part of the Customer Portal administration area, login credentials will be required when accessing these direct links. The pages are restricted to staff accounts that have access to edit the Customer Portal (i.e. the CP Edit permission in profiles). See Profile Permissions for more information on the various CP related permissions available.
Available Languages for this Answer:
Notify Me
Login
The page will refresh upon submission. Any pending input will be lost.