Expand
Oracle Service Cloud Gets a Customer Experience Makeover
Answer ID 9238 | Last Review Date 02/06/2017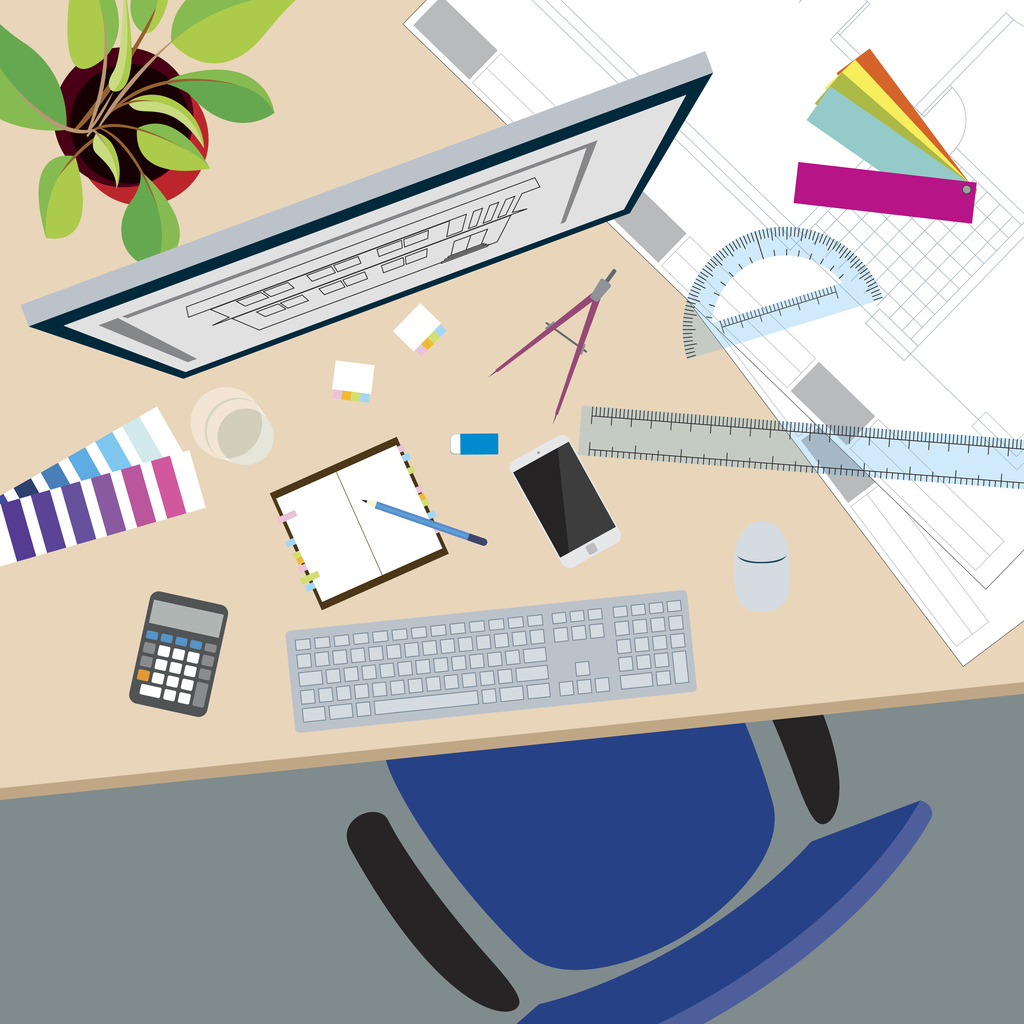 Recently my wife and I looked at a little ranch house for sale in Bozeman, MT. The house had been on the market for quite a while and we understood why when we walked through the front door for the first time. In spite of the appeal of a large yard and fundamentally solid construction, the inside was a hodgepodge mix of design from multiple decades: the kitchen was straight out of the 80's, the master bedroom, the 60's and the family room, the 90's. We bought the house knowing we had pain, frustration and work ahead of us. Many of those same thoughts cropped up as we embarked on giving the Oracle Service Cloud Support Portal a complete makeover.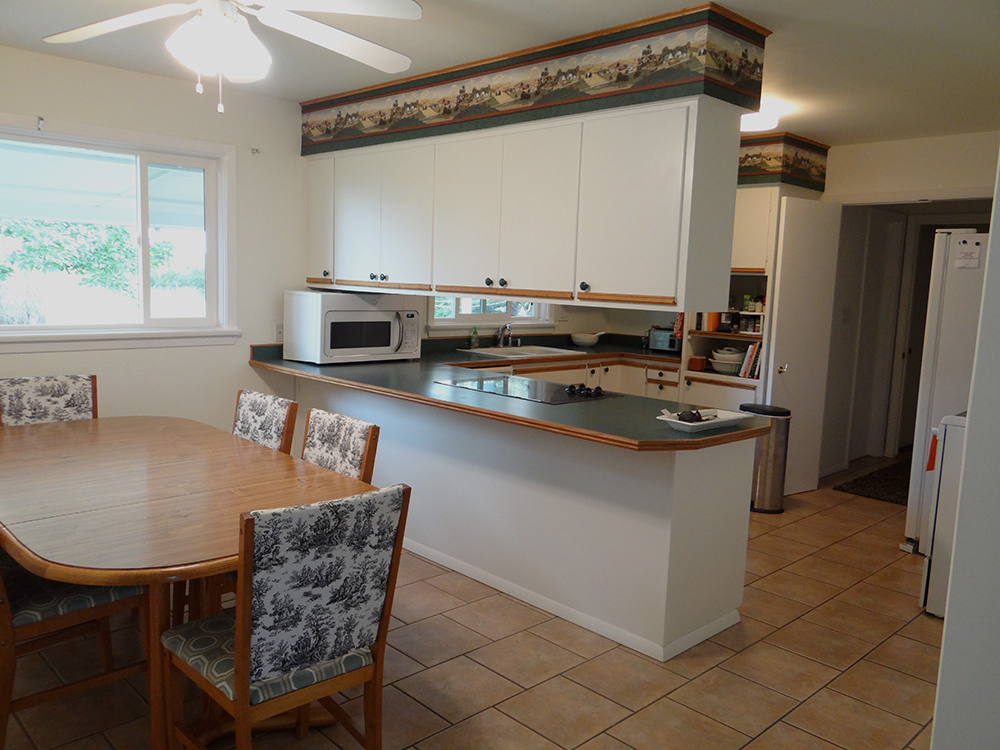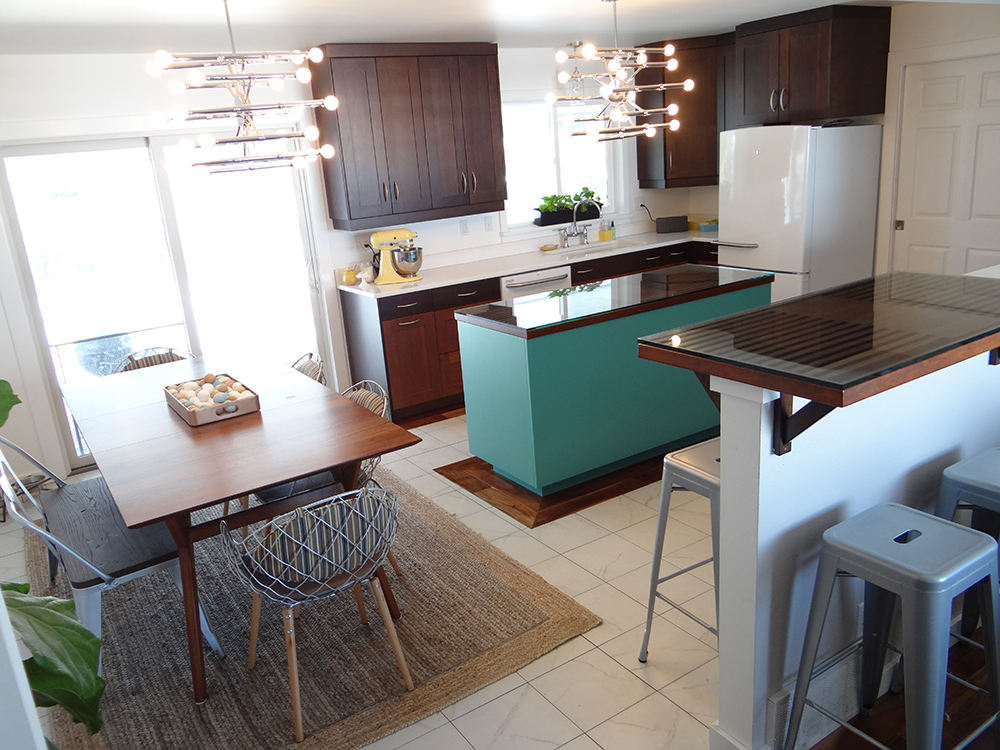 Before (Click here to enlarge) After (Click here to enlarge)
When remodeling your home, or even a single room, you are trying to enhance functionality and create a space that's a reflection of who you are. We aimed to achieve the same with our support site. Our two goals were to reduce our customers' effort and provide a visually appealing experience that more closely reflected who we are. To achieve those goals, we employed ethnographic research and design thinking principles while leaning heavily on best practices related to user and customer experience. The final product represents a collaborative effort that brought together the expertise and input of multiple teams, both internal and external to Oracle Service Cloud. Some of the highlights include:
New Entry Point

- cx.rightnow.com is now our homepage which includes announcements, the freshest content and links to getting started materials

Enhanced Search

- Toggle between searching the Knowledge Base or the Community

Navigation UX

- Reordered and added new options for ease of accessing key resources

Support Landing Page

- Loaded with effort reducing enhancements like personalized SR info, a series of bookmarks linked to critical information, recent video micro-trainings and more . . .

Support Hotline

- Based on your feedback, this can now be accessed for all support pages

Easier Readability

- Improved the color contrast of the text for reduction of eye strain

Updated branding -

Out with the tired design and in with a completely refreshed look and feel
Although the changes represent a major shift on some levels, none of the critical functionality has been removed. It may take a little time to get comfortable with the changes, but rest assured you can still do all the same things needed to be effective in your role. For instance, instead of looking for the "Ask Support" button, you will click on the Service Request "Wrench" icon that remains persistent on all Support pages. This change will result in fewer clicks, since the icon can be found in the same location on any of our support pages. Reduced clicks is a theme running through the Support Landing Page, where you will find all our most important and popular resources a single click away.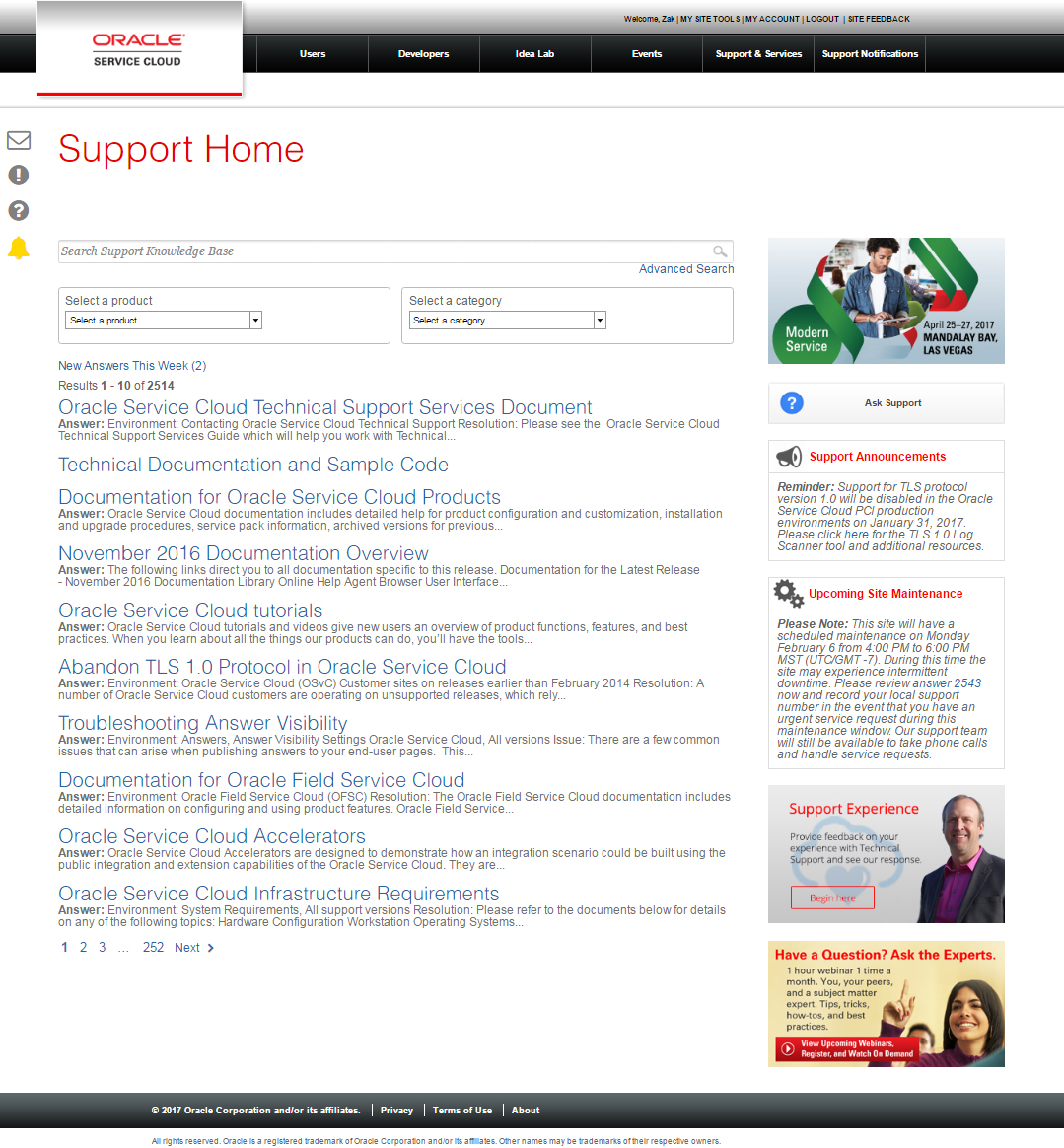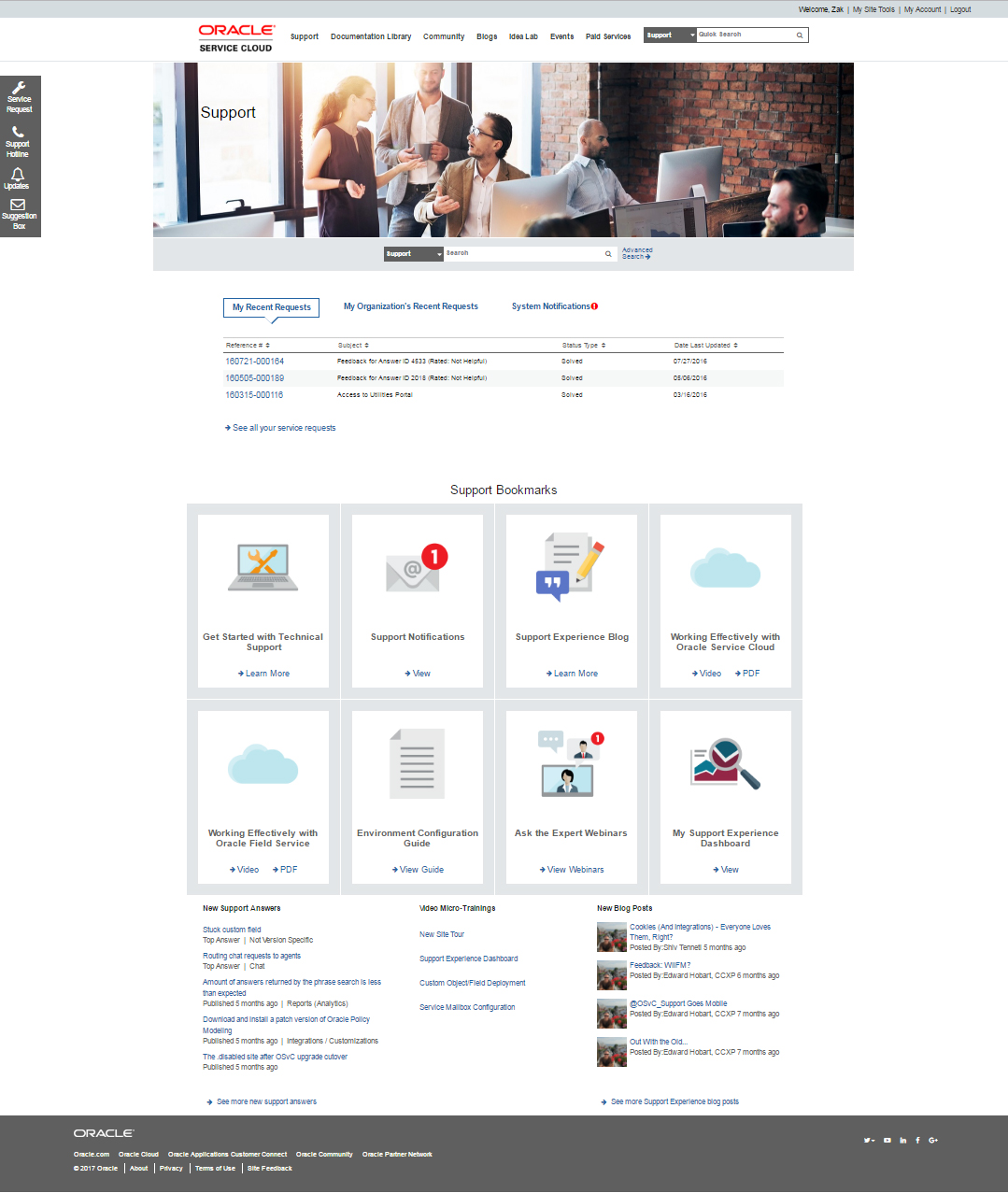 Before (Click here to enlarge) After (Click here to enlarge)
We understand that immediately following major home improvements it's not uncommon to get up in the middle of the night and bump into a new wall or new door. In an effort to minimize any such bumps, we have created a brief video tour of the new Support Portal. This will you find and make use of our most popular and success enhancing resources.
We've rolled out quite a few Support Experience advancements over the course of the last year. The makeover of the Support Portal, with an eye toward reducing your issue resolution effort, has been a year in the making and is our biggest upgrade to date. Not unlike an older home, our site had been added to and changed piecemeal, without much regard to the greater user and customer experience. The rollout of our new Oracle Service Cloud Support Portal is a major change, but be aware that it's only the tip of the iceberg. Working with your feedback, we'll continue to improve you experience.
The site is set to launch February 11th. Are there any other changes we could make that would result in improving your experience with us? Login to comment.
Notify Me
Login
The page will refresh upon submission. Any pending input will be lost.