Expand
Cache reports and dashboards at scheduled times
Answer ID 8997 | Last Review Date 04/10/2022
How do I use Report Caching?
Environment:
Analytics, Report Caching Scheduling feature
Oracle B2C Service, Sites November 2016 and newer
Issue:
How do I cache the results of a frequently run report to reduce server load, and reduce the processing and loading time for a report?
Resolution:
There are two different types of report caching. The first is automatic, and has to do with the underlying data of which your database is constructed. That's not what this is. See Answer 1917: Cached data used in reports for details on that.
Report Caching is a feature available on sites November 2016 and newer.
A report typically gathers the data it will display at the time it is opened, run, or refreshed. A Cached report does not collate and process at these times. Rather, cached reports only update their information at the interval specified in the caching schedule.
To set a Cache Schedule, while editing the report, in the Home tab, in the properties section, click the Caching icon:


Ensure the "Enable report caching" box is selected: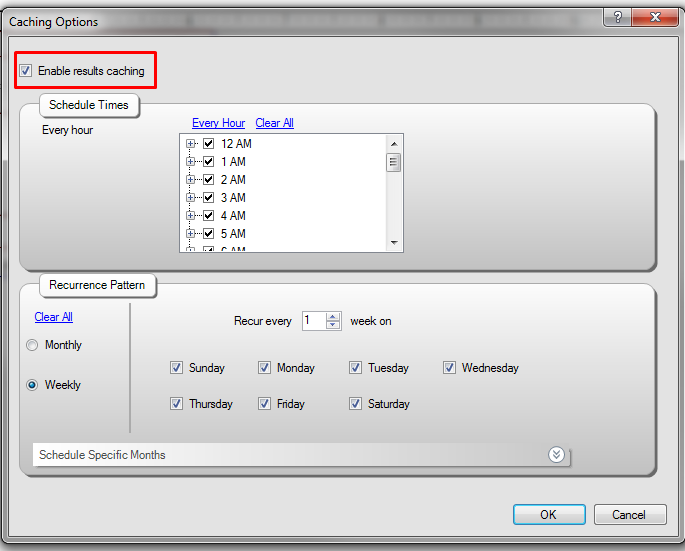 Set the caching schedule as desired.
Please note when a report is configured for caching, run-time selectable filters will no longer be present for users. Cached reports or dashboards are run on the server on the specified caching schedule. When a user needs to access the report or dashboard they will see the data as it existed during the time it was cached. At the next scheduled caching time, the report or dashboard is run on the server again replacing the previous version.

For additional information, refer to the 'Cache reports and dashboards at scheduled times' section in the Online Help User Guide documentation for the version your site is currently running. To access Oracle B2C Service manuals and documentation online, refer to the Documentation for Oracle B2C Service Products.
Notify Me
Login
The page will refresh upon submission. Any pending input will be lost.