Expand
Service is temporary unavailable...when testing Cobrowse
Answer ID 8989 | Last Review Date 12/18/2018
Why am I seeing 'Service is temporary unavailable

...

'

message when testing Cobrowse?
Environment:
Standalone Cobrowse
Issue:
When testing Cobrowse,instead of generating a code, the following message is being displayed: 'Service is temporary unavailable. Please try again later. Thank you for your patience' as seen in the bellow image.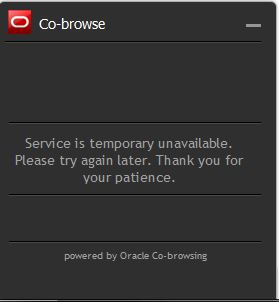 Resolution:
This behavior will occur if the launcher script has been placed in a file that is saved on the local computer. When the file is being loaded in a browser, Cobrowse functionality will not work and throw the above message. In order for Cobrowse to work, the file that contains the script needs to be hosted on a server, it will not run as expected when it is called locally.
Notify Me
Login
The page will refresh upon submission. Any pending input will be lost.