Expand
Submitting an equipment/inventory related request
Answer ID 7305 | Last Review Date 09/06/2019
What information should I include when submitting an equipment/inventory related request?
Environment:
Equipment/inventory requests
Oracle Field Service
Resolution:
When submitting an equipment/inventory related request, please use the following information to ensure your request gets resolved in a timely manner.
1. Date & Time of action:
By providing us with the date and time of an action, we are able to easily identify issues in the logs during this time.
2. Detailed Description:
By providing us with a detailed description of the issue you are experiencing, including steps to reproduce, OFS Support can accurately isolate the issue and decrease time to resolution.
3. Technician External ID, Work Order number, & Equipment/Inventory ID:
By providing OFS Support with the External ID of the technician, equipment/inventory ID, as well as the work order number where the issue was observed, this will allow us to easily identify the issue.
- Can't find the external ID?
1. Go to the Resource Settings Tab and select Technician/Bucket info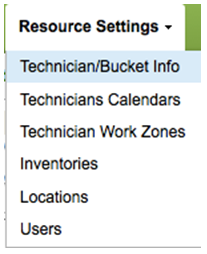 Available Languages for this Answer:
Notify Me
Login
The page will refresh upon submission. Any pending input will be lost.