Expand
Partners - How to request and maintain Oracle B2C Service demo sites
Answer ID 6096 | Last Review Date 12/18/2018
What is the process to request and maintain Oracle B2C Service demo sites?
Environment:
Partners
Oracle B2C Service demo sites using Oracle Demo Central and/or Oracle Cloud Marketplace
Resolution:
Introduction
All demo sites for Oracle B2C Service (OSvC) must now be requested by the partners directly for all demo or development related sites.

Demo site access and requests
For all Oracle B2C Service requests, the requests must be made through Oracle Demo Central (http://demo.oracle.com).
Each partner must have an oracle.com account to access the site to submit tickets.

To gain access to Oracle Cloud Services Demonstration environments:
Be a Gold, Platinum or Diamond level partner in good standing within the Oracle PartnerNetwork.
Have at least one Sales Specialist and one PreSales Specialist for the desired product.
For Demo purposes:

– Agree to the terms and conditions of the Cloud Services Demonstration Access Addendum, executed online via the Oracle Partner Store.

For Development purposes:

– Agree to the terms and conditions of the Cloud Interoperability Addendum, executed online via the Oracle Partner Store.


– Note: If the information in the partner's application does not comply with these terms, the application will be declined.

Full details of the program can be found on the OPN Website (Click on following links: Partner with Oracle > Market and Sell > Oracle Demonstration Services)
Once approved, there demo central should receive an automated update and the accounts will be granted access.

Cloud Interoperability Addendum (Step by Step)
Login to the Oracle Partner Store here.
– Go to 'Memberships' tab > Others > Apply for New OR to Renew.
– Go to 'Memberships' tab > Others > Select the Oracle Cloud Interoperability record > go to 'Actions' button > Renew.
– Fill in the online form to execute the Oracle Cloud Interoperability Addendum (NOT the Oracle Social Interoperability Addendum).

Submitting requests
Once access is granted use the following steps to create tickets.
Click the

next to the appropriate heading below to expand that section for viewing.
Step 1 - Start B2C Service Request
In the "My filed" Tickets section of the page you will see a "New" button, click new to start your B2C Service request.
Step 2 - Select Type of Request
Select your type of request. The following options are available for partner use:


· Connectivity Issue:
o Issues with site features such as chat or utilities restart requests or enablement of features.
· Extend Environment:
o For requesting site extensions.
· Partner Access:
o Request a new Environment.
· Refresh Environment:
o Request a replacement for an existing environment.
· Retire Environment:
o Request an environment be destroyed.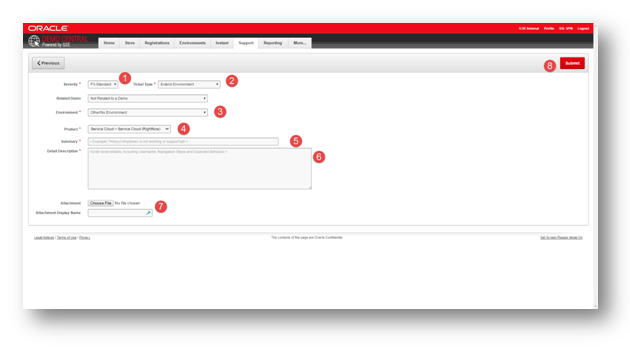 Severity

P3-Standard: This is the default option and should be used for the majority of tickets.
P2-Severe: This should only be used if the environment is inaccessible.
P1-Critical: This should only be used if the site is down.

Ticket Type: This will be pre populated from the selection on the previous page
Related Demo: Default Value is [Not Related to a Demo]
Environment: Select [Other/No Environment]
Product: Select Cloud Apps -> Service -> and select the specific product
Summary: Summary of the request
Detail Description: Details of the request

For New Site requests provide the following:

Partner Name
OPN Company ID
Email address of at least two people for site notifications
Request details

For existing Site requests provide the following:

Partner Name
OPN Company ID
Site Name
Request Details

Connection: Select [Other]
Attachment: Attach an attachment if required
Attachment Display Name: Provide a name for the attachment
Submit: Click Submit to complete the request
* Depending on the type of request some of the above options may not be available for selection.

Once submitted the screen will turn to the Support section of Demo Central, and the ticket will be displayed in the My Tickets section of the page. An email confirmation of the submission will be sent to the email address on file for the filer of the ticket.
NOTE: If there is more than a single issue\request please submit different tickets as separate tracking is required based on routing.

There is a section for close tickets where tickets can be reviewed that have been closed and reopened if the specific issue is still occurring.
NOTE: Do not reopen existing tickets for a reoccurrence of an issue\request. The ticket will be closed, and the filer will be requested to submit a new ticket.
Clicking on the ticket number will open the ticket itself for updating information as required to complete the ticket as its being worked to completion.
Step 4 - Open / Edit Ticket Interaction
When a ticket screen is opened the filer will see various details and options for the ticket such as Ticket Tasks, Ticket Links, etc. Within Ticket Links only the [Add Attachment] option should be used by the filer, all other options SHOULD NOT be used by the filer. The filer's options under Ticket Tasks should be utilized when updating a ticket.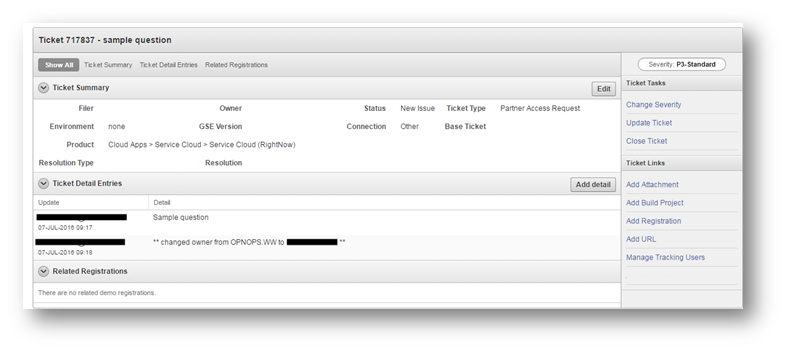 Ticket tasks available:

| Ticket Tasks: | Image of Task: |
| --- | --- |
| • Change Severity Options: | |
| • Update Ticket Options: | |
| • Close Ticket Options: | |

Oracle B2C Service Demo Services Frequently Asked Questions
Refer to Oracle B2C Service Demonstration and Development Sites Frequently Asked Questions (PDF) for more information regarding partner requested demo sites.
Available Languages for this Answer:
English (US)

Japanese

Spanish

Portuguese (Brazil)
Notify Me
Login
The page will refresh upon submission. Any pending input will be lost.