Expand
Oracle Cloud Console and OFS Service Console
Answer ID 12277 | Last Review Date 11/07/2022
How do I enable OFS Service Console in Oracle Cloud Console to be able to monitor my services and manage my instances?
↵
Oracle Field Service: Service Console
Oracle Cloud Console
Oracle Cloud Console
is the centralized access point where you manage your Oracle Cloud deployments and instances. The Oracle Cloud Console provides options for both monitoring and operating your services.
Oracle Field Service Service Console
provides details about the Field Service instances that you subscribed to and provides options to perform several tasks for your environments.
When you purchase an Oracle Field Service subscription, you receive a Welcome email (
Action required: add your service(s) to an Oracle Cloud Account
) with steps to link your new subscription to an Oracle Cloud Account. You can either link your new service to an existing Cloud Account where you already manage other Oracle services or you can create a new Cloud Account. You decide what best fits your company needs. After adding your new service, you will receive an email from
oracle.com
with guidance for next steps.
I have added my new Oracle Field Service subscription to a Cloud Account. How do I login to my OFS environments?
Your Oracle Cloud Console login credentials is not same as your Oracle Field Service environment login credentials. For security purposes, your OFS environments will be provisioned without users. You are responsible for creating your first Admin user. Please follow the steps below for each Oracle Field Service instance:
2. Enter the Cloud Account associated to your new service and your Oracle Cloud Console login information
3. Under
My Application
, locate your Oracle Field Service environments
4. Click the Application URL for your
Service Console
.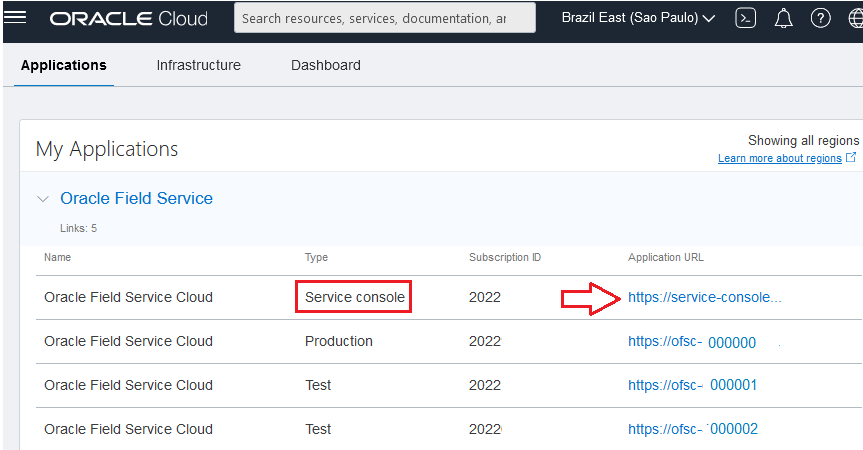 5. In the
Available Instances
tab, click the action menu associated with the instance and select
Reset Admin User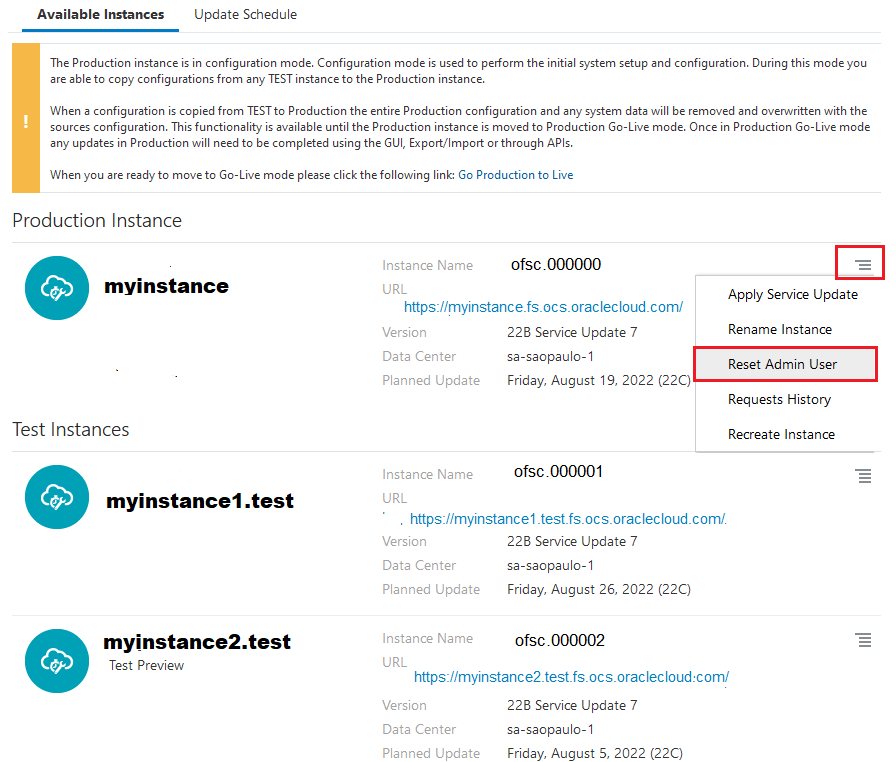 6. Select
Create Admin User
and choose a user name. Click
Create
.

7. You may now click the Application URL associated to the instance you have just created the Admin user for.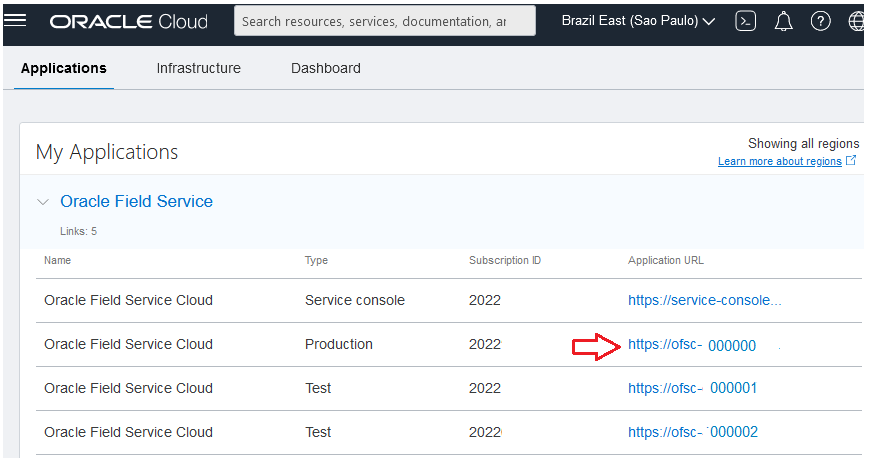 8. Enter the newly created credentials to login to your Oracle Field Service instance.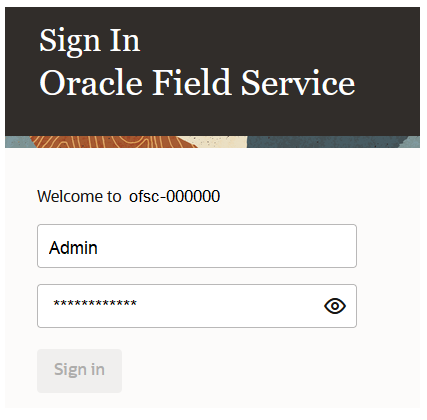 Frequently Asked Questions (FAQ)
Oracle Cloud Console is a new service in which customers will eventually be able to view all of the Oracle products they own, in one area.
This is replacing the legacy MyServices Cloud Portal in which provided similar functionality, but Oracle products were not always combined.
I see references to Oracle Cloud Console in user guides and documentation, why do I not have access?
Oracle Cloud Console is currently available only to new OFS customers who were provisioned on or after June 30, 2022. The remaining OFS customers who are still using MyServices Cloud Portal will be migrated later in 2022 and there will be announcements informing them of such move.
How do I add a new Cloud Account user as a backup in case I am out of the office and someone needs to access OFS Service Console?
Available Languages for this Answer:
Notify Me
Login
The page will refresh upon submission. Any pending input will be lost.