Expand
Admin user locked out of OFS instance
Answer ID 12177 | Last Review Date 04/18/2022
Can OFS Support reset my OFS admin password or create a new OFS admin user for me?
Environment:
Oracle Field Service (OFS)
Issue:
I am the only admin in the OFS instance and I cannot login. Can Oracle create a new user for me or reset my password?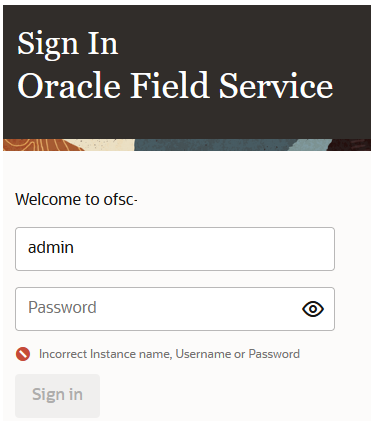 Resolution:
OFS Support team is not able to create a new user or reset your password on your behalf. Please use the Cloud Portal to regain access to your OFS instance
You are able to reset your OFS admin password or create a new backup user by following these steps:
Enter your 'Cloud Account Name' and click

Next

Sign in with your Cloud Account credentials and go to OFS Service Console
In the

Available Instances

tab, locate the instance you need to perform the action and click

Reset Password

from within the action menu.
Select either

Reset Password

to input the existing username or select

Create Admin User

. A new temporary password will be provided on the screen. You will be required to change your password as soon as you login with the temporary credentials.

Available Languages for this Answer:
Notify Me
Login
The page will refresh upon submission. Any pending input will be lost.