Expand
How to fill the "Route Activation Time" field automatically
Answer ID 12175 | Last Review Date 04/18/2022
How can we prevent the "Route Activation Time" field from being manually edited by the user allowing it to be filled by the system automatically with a current time value when starting the route?
Environment:
Oracle Field Service (OFS)
Issue:

Resolution:
By removing the ability to edit the time in the "Route Activation Time" field, the system will automatically fill in the value of the field.
You can disable the ability to edit the field by following these steps:
Navigate to

Configuration >

User Type

Select the User Type you would like to make the change > Click on

General

tab

In the

Activity Management

section, uncheck the box for "Allow action time adjustment"

Have the user log out and log back in, and the field will disappear from the layout, but the time value when the path is triggered will be calculated automatically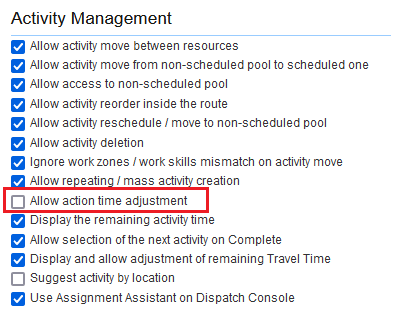 Available Languages for this Answer:
Notify Me
Login
The page will refresh upon submission. Any pending input will be lost.