Expand
OFS: Synchronization error on activity Start or En Route actions
Answer ID 12132 | Last Review Date 11/03/2022
Environment:
Oracle Field Service (OFS)
Issue:
The activity History displays a synchronization error on Start or En Route activity actions.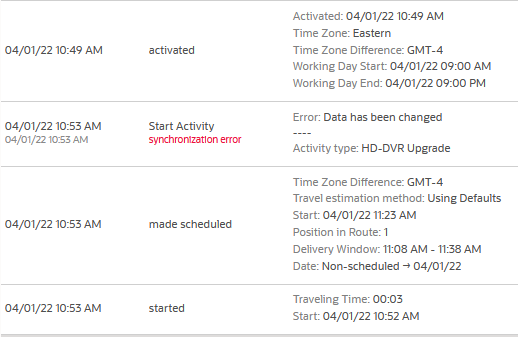 Resolution:
You can Start or En Route an activity if it is the next Pending activity on the route. When the activity is Started or set to En Route directly from the non-scheduled pool, the system first moves the activity to the current resource's day and then it sets the status to Start or En Route. The system auto-resolves the synchronization and displays "synchronization error" in the activity History. The behavior is expected.
Please note, you will not be able to start an activity from the non-scheduled pool if you don't have the permission 'Allow activity move from non-scheduled pool to scheduled one'.
Available Languages for this Answer:
Notify Me
Login
The page will refresh upon submission. Any pending input will be lost.