Expand
Configure a resource to be used as capacity area
Answer ID 11610 | Last Review Date 06/24/2020
Where is the pcapacity_bucket field used to set a bucket as capacity area?
Environment:
Oracle Field Service (OFS)
Issue:
I used to configure buckets to be used as capacity area by checking the box 'Use as Capacity Area' (field: pcapacity_bucket) in Resource Info screen of Legacy Manage interface. I am not locating this field in Core Application interface. How can I set a resource as capacity area using the Core Application UI?
Resolution:
To mark a resource to be used as capacity area in Core Application interface go to Quota screen and click Configuration (wrench icon). You will see a plus sign by the Resource Tree search box.

Note: The plus sign will only display if you have Read-write permissions in the Quota Configuration tab in Configuration > User Types > Screen Configuration > Application screens > Quota screen context.

Clicking the plus sign will display the Resource Tree, where you will be able to select the resource you will want to use as capacity area.
A warning will display if the resource cannot be used as capacity area.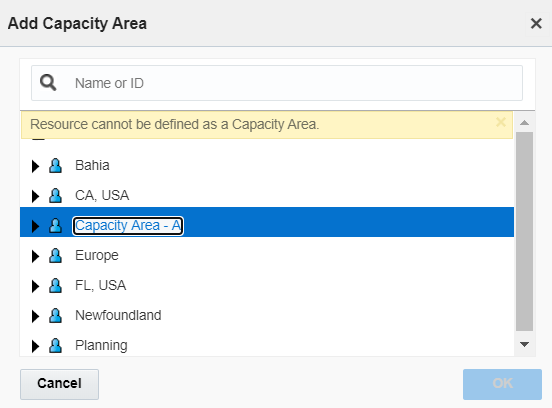 If you already have a resource that is configured to be used as capacity area and you would like to remove the configuration and not use the resource as capacity area, go to Quota screen, click the wrench icon and select the resource in the Resource Tree. Select 'Stop using as Capacity Area'. Click OK in the confirmation screen.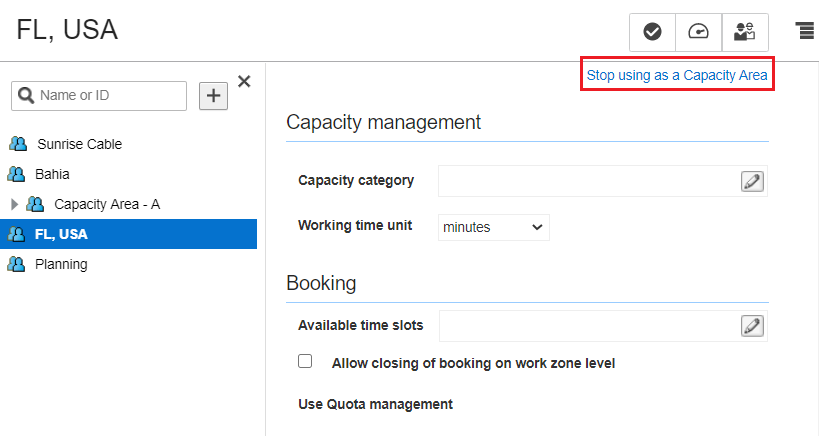 Available Languages for this Answer:
Notify Me
Login
The page will refresh upon submission. Any pending input will be lost.