Expand
Not all reports are available for configuration in the Dashboard screen
Answer ID 11554 | Last Review Date 05/26/2020
Why are not all reports available for configuration in the Dashboard screen?
Environment:
Oracle Field Service (OFS) Core Application
Issue:
Supervisors have access to the Dashboard screen from the Main Menu icon but they report that they can only see a hand full of reports available for configuration when they add a new Dashboard or click Configure Current Dashboard. I see in the documentation that there are several reports available for Oracle Field Service. Why can't the Supervisors add those reports to their Dashboards?
Resolution:
If users have limited reports available for configuration it means that not all reports are enabled for their User Type.
Follow the steps below to enable specific reports or all reports available for a User Type:
1. Go to Configuration > Dashboards
* if you don't have the Dashboards icon, it can be added to your User Type by going to Configuration > User Types > Screen Configuration. Expand Application screens and select Main Menu screen context. Go to Click to add and select 'Dashboards'. Click Save. Click the Add new visibility link and click Save.
2. Using the drop-down in the header, select the User Type you would like to enable/disable specific reports. For this example, 'Admin User Type' was selected.

3. Click the menu button on the top right and select Available Reports Configuration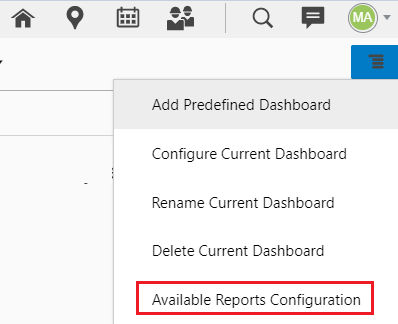 4. Locate the reports you would like to enable in OFS and click the indicator to turn it blue (enabled). Click the "X" to exit out of the Available Reports configuration screen.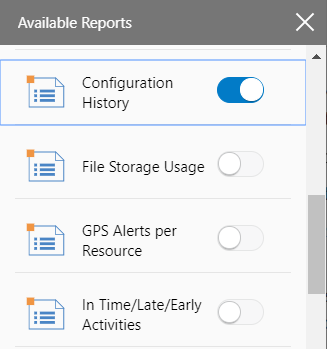 The reports you have enabled are now available for users of the specified User Type.
Available Languages for this Answer:
Notify Me
Login
The page will refresh upon submission. Any pending input will be lost.