Expand
Mass Populate and Quota History action buttons are overlapped in Quota screen
Answer ID 11381 | Last Review Date 02/23/2020
Why is 'Mass Populate' and 'Quota History' action buttons overlapped?
Environment:
Oracle Field Service (OFS)
Issue:
I have added 'Mass Populate', 'Quota History' and 'Close Time History' options to Quota screen context for a new User Type. When I go to Quota screen I see all options overlapping.

Resolution:
Starting in OFS 18C, actions like 'Mass Populate', 'Quota History' and 'Close Time History' should be grouped under Actions button.
Please follow the steps below to display the actions inside the Action button:
1- Go to User Type > Screen configuration > Application screens > Quota
2- Click the button 'Click to add' and select the action(s) you would like to display to the User (i.e. Mass Populate). Click OK.
3- Click the action link 'Add new visibility' and click Save.
4- Select the action that has just been added and click 'Group'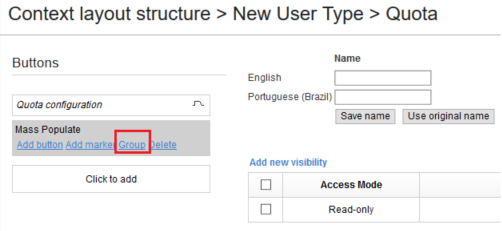 5- The screen 'Add to group' will be displayed. There is no need to give it a name. Click OK.
6- Move the remaining actions inside the section using drag and drop function and add visibility to the remaining actions (if you haven't done this step yet).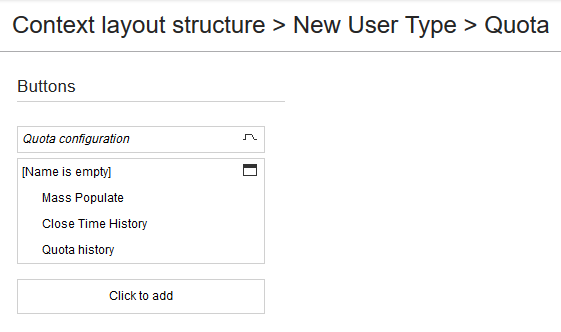 7- The actions will now display under 'Actions' drop-down menu.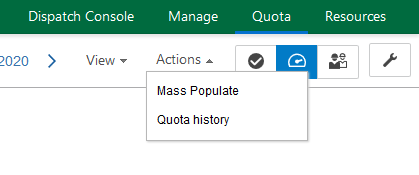 Available Languages for this Answer:
Notify Me
Login
The page will refresh upon submission. Any pending input will be lost.