Expand
Error al intentar crear un Recurso usando la interfaz de la Core Application
Answer ID 11344 | Last Review Date 01/26/2020
¿Por qué no puedo agregar un nuevo Recurso usando Core Application?
Entorno:
Oracle Field Service (OFS)
Problema:
No puedo agregar nuevos Recursos usando la interfaz Core Application. Recibimos este mensaje de error:
"Mandatory parameter resources is missing"
Resolución:
Con la introducción de la pantalla de administración de Core Application, se fusionaron las pantallas de Creación de recursos y Usuarios. Con este cambio, hemos hecho obligatorio la adición de algunos campos relacionados con el Usuario, para permitir la creación de Recursos/Usuarios. Entre estos campos está el campo "Recursos visibles" (Recursos).
En la captura de pantalla a continuación, vemos el mensaje de error que se muestra en rojo cuando falta "Recursos visibles" (Recursos):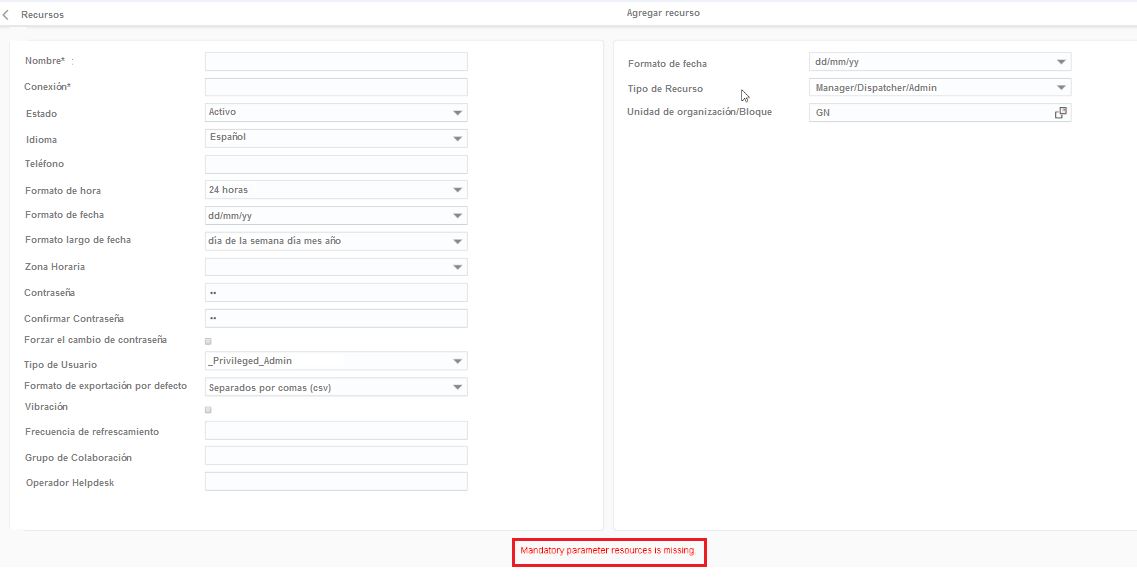 Para resolver este problema, agregue todos los campos necesarios relacionados con el usuario al contexto Editar Recurso/Usuario, como se muestra a continuación:
Available Languages for this Answer:
Notify Me
Login
The page will refresh upon submission. Any pending input will be lost.