Expand
Parent Resource lost 'Use as Capacity Area' attribute
Answer ID 11289 | Last Review Date 02/24/2022
Why did the bucket lose the 'Use as Capacity Area' attribute?
Environment:
Oracle Field Service (OFS)
Issue:
I have configured the bucket 'Region A' as a Capacity Area. After I moved 'Region B' to under 'Region A', I noticed that 'Region A' lost the Capacity Area attribute and now displays the message "Please select a Capacity Area" on Quota configuration screen. I am no longer able to set 'Region A' as Capacity Area.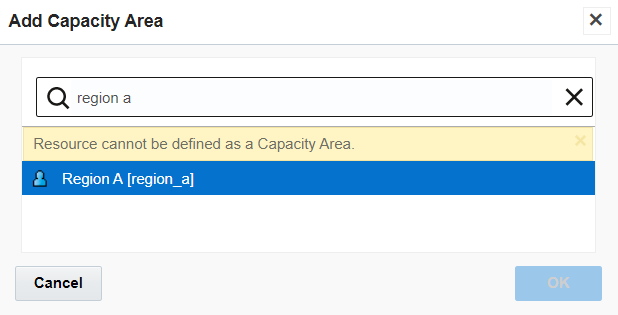 Resolution:
Having Capacity Area attribute simultaneously for parent and child in the Resource Tree is not permitted. If you move a Resource that already is a Capacity Area to be a child of a Resource that is also a Capacity Area, the system will automatically deselect the setting for the parent Resource. It will not be possible to set the parent 'Region A' as Capacity Area.when there is a child resource already set as Capacity Area.
Available Languages for this Answer:
Notify Me
Login
The page will refresh upon submission. Any pending input will be lost.