Expand
Alerta al seleccionar Vista de Mapa
Answer ID 11176 | Last Review Date 10/20/2019
¿Por qué aparece el aviso "Operación no permitida" cuando hago clic en la Vista de Mapa?
Entorno:
Oracle Field Service
Problema:
Quiero verificar las rutas en el mapa, pero recibo la siguiente alerta cuando intento acceder a la Vista del Mapa:

Resolución:
La alerta se muestra debido a que el Tipo de Usuario no tiene permiso para acceder a los mapas.
Siga los pasos a continuación para resolver el problema:
Haga clic en Configuración > Tipos de Usuario.
En el lado izquierdo, seleccione el Tipo de Usuario que desea conceder permiso para ver el Mapa.
En la pestaña General, seleccione la casilla "Mapa' en la sección Permisos.
Haga clic en Guardar.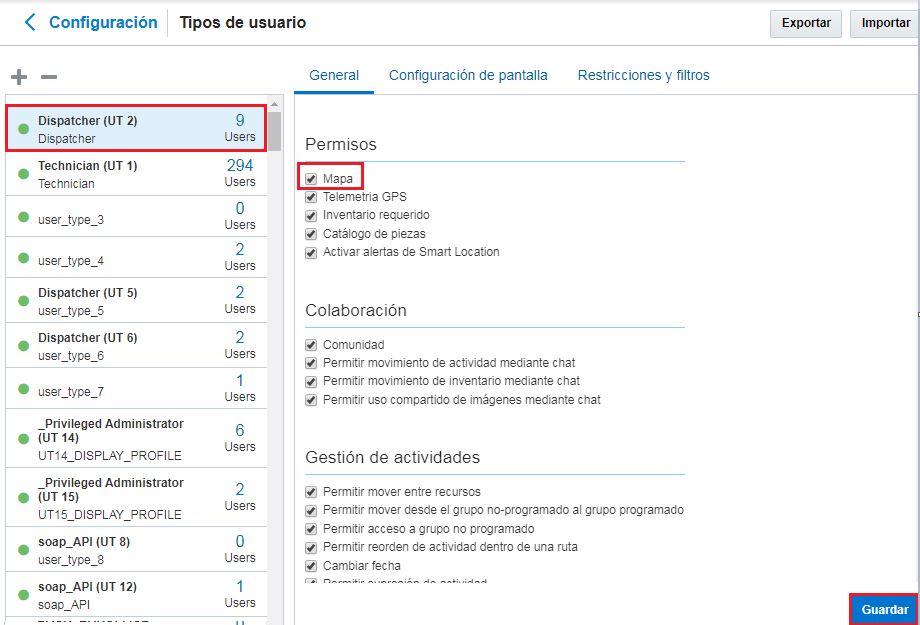 Available Languages for this Answer:
Notify Me
Login
The page will refresh upon submission. Any pending input will be lost.