Expand
Configurando el tiempo de recordatorio de un escenario de mensajes
Answer ID 11168 | Last Review Date 02/15/2022
¿Cómo puedo configurar un valor en minutos para activar la condición de inicio de Recordatorio?
Entorno:
Edición de la condición de inicio del escenario de mensajes Recordatorio
Oracle Field Service
Solución:
El valor en minutos de la propiedad 'Recordatorio' (con la etiqueta 'cmessagetime'; como se ve en el contexto Agregar actividad / Detalle de actividad no se encuentran definidos dentro de la configuración del Tipo de usuario, sino dentro de la sección Condiciones de Inicio de los escenarios de mensajes.

Para encontrar / editar el tiempo del Recordatorio, dirijase hacia 'Configuración> Escenarios de mensajes' y seleccione el escenario 'Recordatorio' de las opciones a la izquierda. Desde allí, seleccione la condición de inicio correspondiente y aparecerá un cuadro de edición. Aquí es donde debe realizar los cambios necesarios: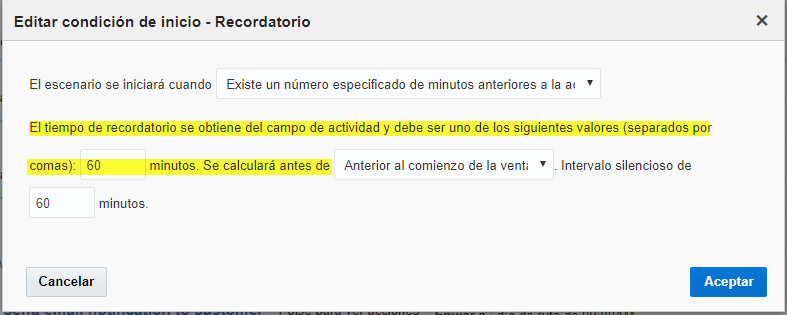 Available Languages for this Answer:
Notify Me
Login
The page will refresh upon submission. Any pending input will be lost.