Expand
Removal of the Legacy API Authentication option
Answer ID 10867 | Last Review Date 05/14/2019
Do I need to take any actions to prepare for the removal of the Legacy API Authentication option?
Environment:
Oracle Field Service (OFS)
Issue:
The Legacy API Authentication option in User Type screen is deprecated with the 18D (November 2018) release and is planned to be removed with OFS 19C (August 2019) release.
Resolution:
Deprecation means that although a feature or functionality is still available in the current Oracle Field Service release, Oracle plans to remove the feature or functionality in a future release.
Removal means that the feature or functionality is removed from Oracle Field Service and is no longer available for use.
Once OFS 19C (August 2019) is installed to your environment, Legacy API Authentication functionality will no longer work. To ensure that your integrations continue to operate after 19C update, we strongly encourage you to migrate to the Client_ID/Secret Authentication and OAuth2 between now any July 2019. These options can be configured using the Configuration > Applications screen and need to be applied to any API endpoint you currently use (SOAP and REST).
Use the following steps to transform the integration from using 'user' credentials to 'application' credentials:
You may use an existing application or create a new one (for example, if an existing application is already used and you do not want to change it).


If you want to use the existing application, go to

User Type

screen and find the User Type, which is used for accessing the API. Check the application to which the User Type is linked. You can verify it in the 'API access permissions are configured using the selected application' drop-down list.
Open the

Configuration >

Applications

screen and find the appropriate application (or create an application, if necessary).


Choose the authentication method that suits you best. The simplest option to transition from a user login /password authentication is to use the

'Authenticate using Client ID/Client Secret'

option. In this case, you just have to configure new credentials for API access in the external applications.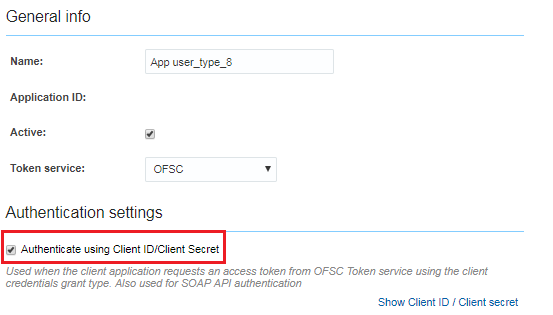 For example, if you are using a SOAP API, during a SOAP call you must replace the login with the Client ID and the password with the Client Secret when generating the user node.
Available Languages for this Answer:
Notify Me
Login
The page will refresh upon submission. Any pending input will be lost.