Expand
Receive "Forward failed" message from Oracle B2C Service Admin console and Agent Browser UI
Answer ID 10359 | Last Review Date 10/10/2018
Why are we receiving 'Forward(s) failed' message when trying to forward an incident?
Environment:
Message Templates, Emails
Issue:
When we try to foward an incident, we receive an error:
Forward(s) failed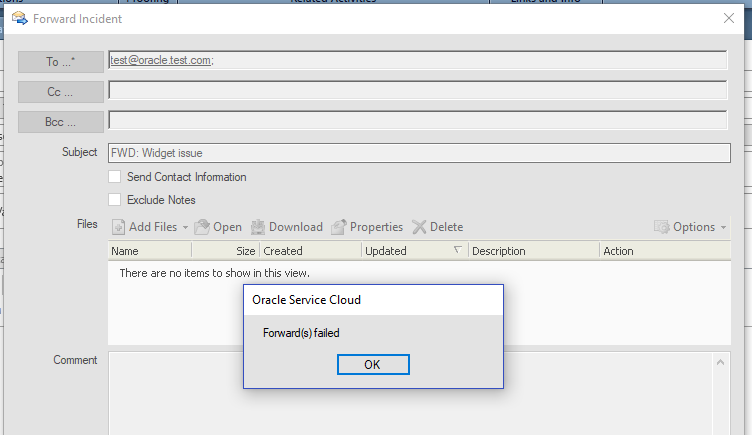 Resolution:
This is likely because the Admin Forward Incident message template is not enabled.
To resolve the error, navigate to Configuration > Site Configuration > Message Templates > Administrator Emails (Ribbon) > Expand the 'Incident' section and check the two boxes: 'Send' and 'HTML' near the 'Admin Forward Incident' template.
Next, ensure you are saving and deploying the changes: click the 'Save' button from the 'Ribbon', click the 'Deploy' link and 'Save' once again so the changes for the template will become live.
Notify Me
Login
The page will refresh upon submission. Any pending input will be lost.