Expand
Only 9 Custom Fields can be indexed per table
Answer ID 10271 | Last Review Date 07/19/2019
Why am I getting a validation error when I try to save custom fields?
Environment:
Oracle B2C Service all versions
Issue:
When saving custom fields, an error is received: Only 9 Custom Fields can be Indexed per table.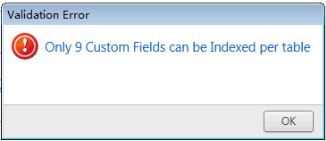 Resolution:
This error is being returned due to the 9 custom fields per table indexing limit and it would be expected for it to happen.
As the error message informs us, we're allowed to index 9 custom fields for any given table at a time. Once we try to index a 10th field, this error will show up.
If you would still like to deploy the field, you can uncheck the 'Indexed' checkbox that can be found under the column name.
Notify Me
Login
The page will refresh upon submission. Any pending input will be lost.