Expand
Steps for adding Work Zone Shapes to an Environment
Answer ID 10232 | Last Review Date 09/10/2019
How do we add default work zone shape files to an environment?
Environment
All versions of Oracle Field Service (OFS)
Note: *Please note, this process requires third party programs, specifically the 'QGIS' program and a website where the file can be uploaded with a valid non-wildcard certificate
Issue
I need to add workzone shape files to my environment
Resolution
Please follow the following steps to add shape files to your environment:
Step 1) Download the .zip shape file from the US Census Bureau website. The current specific URL is 'https://www2.census.gov/geo/tiger/TIGER2015/ZCTA5/'



Step 2) You will then need to download the 'QGIS' program (can be downloaded here: https://www.qgis.org/en/site/forusers/download.html), open the 'QGIS Desktop' program. First, select the 'Add Vector Layer' button, which is highlighted below: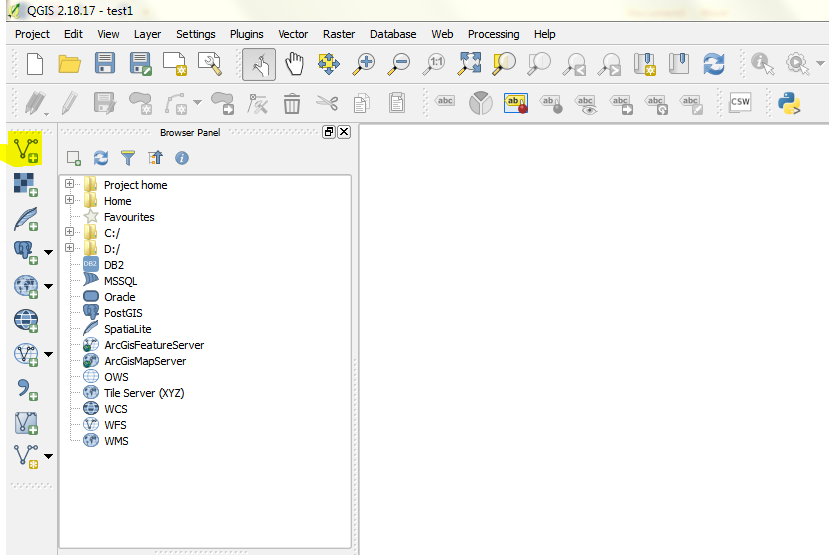 Step 3) Select the .zip file downloaded from Step 1, and open it. Once opened, you should see something similar to: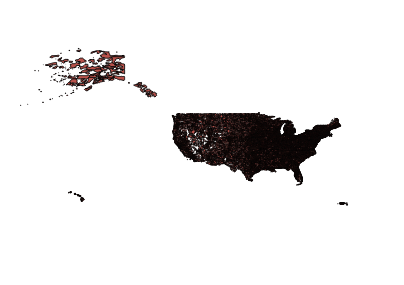 Step 4) Right click the file and select 'Save As' and save the file – this enables you to edit the file itself. For this example, I saved the file as 'US_Zips':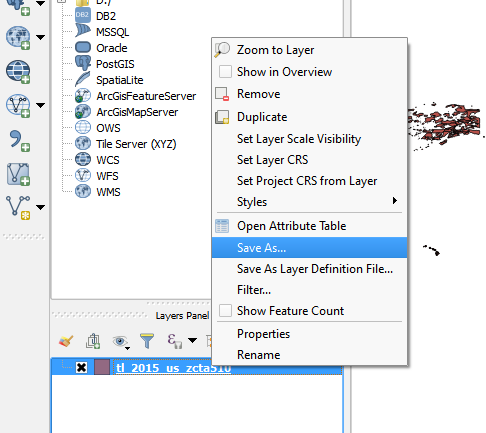 *Once saved, you should see the new file in your Layers Panel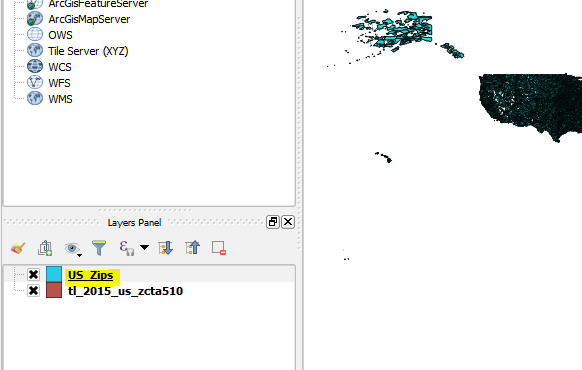 Step 5) Right click your new file, and select 'Toggle Editing':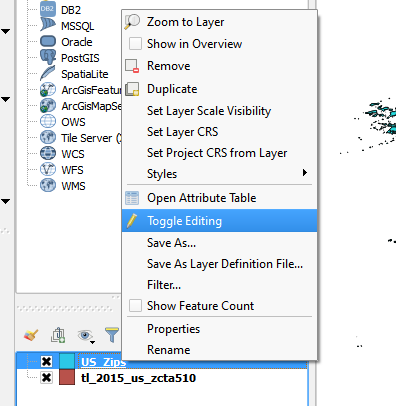 *After Toggle Editing is selected, the screen should resemble the following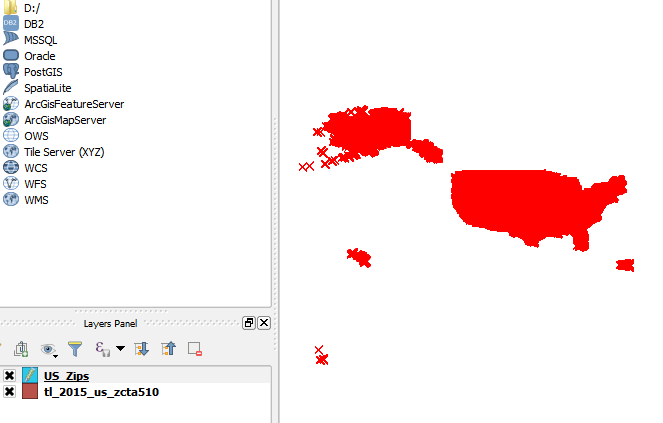 Step 6) Right click your file and select 'Properties':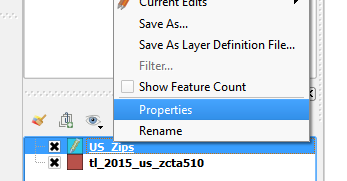 Step 7) Select the 'Fields' Tab on the left hand side of the Properties popup, and remove the fields I've highlighted below, leaving only the 'ZCTA5CE10' field remaining: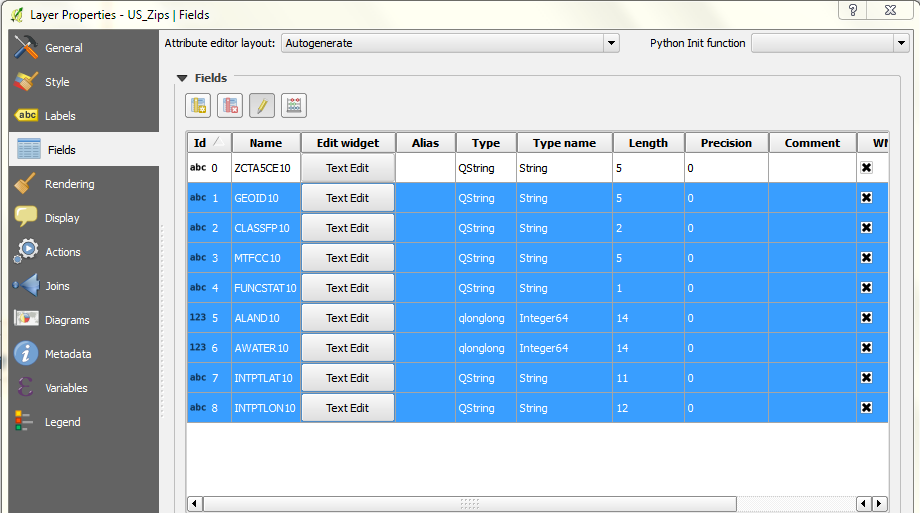 *Afterwards, it should look like this:

Step 8) Right click the file > Save as > create a new file name (for this example I used 'US_Zips2'), and when prompted, select 'Overwrite File':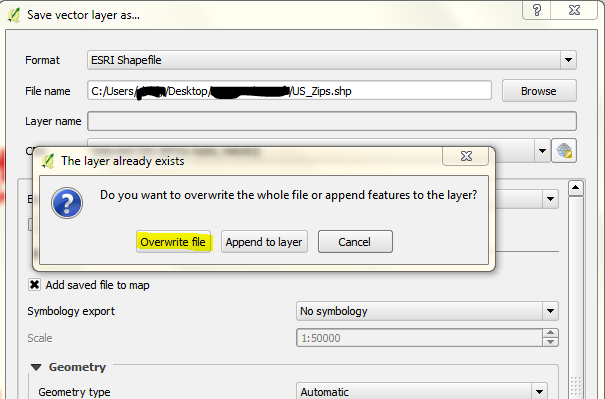 Step 9) Compress all the new files into one single .zip folder.

Step 10) Upload the newly created .zip file to a secure storage website with a valid, non-wildcard SSL certificate:

Step 11) Create a URL link to reference this file (there are third-party sites to host and create URL if needed)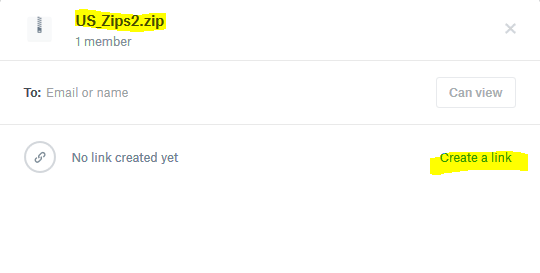 Step 12) Open the OFS environment you wish to add the shape file to and navigate to 'Configuration > Business Rules > Map Layers section > Add New':

Step 13) Select the 'Create work zone layer' option and enter the URL and SRID information accordingly (this specific file uses the SRID value '4269') and hit 'OK':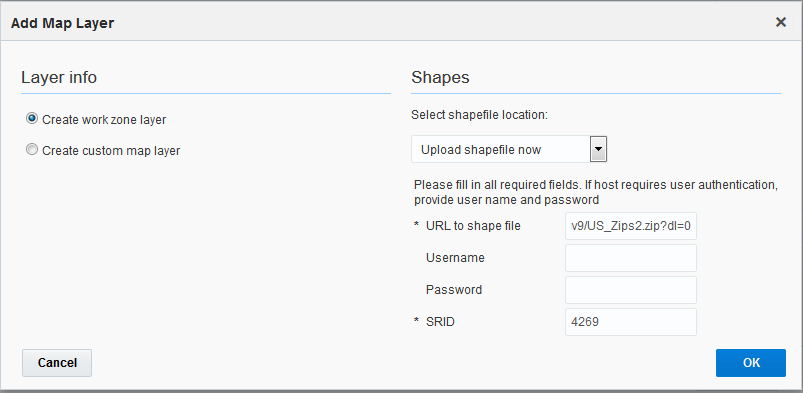 *Please note that this is a large file, and is expected to take ~60 minutes to completely upload.
Step 14) Once the file is saved, select the 'Modify' action and wait ~90 seconds (to ensure the file is completely loaded, otherwise, it can cause the system to hang) before selecting the 'ZCTA5CE10' value in the Shape Identifier drop down: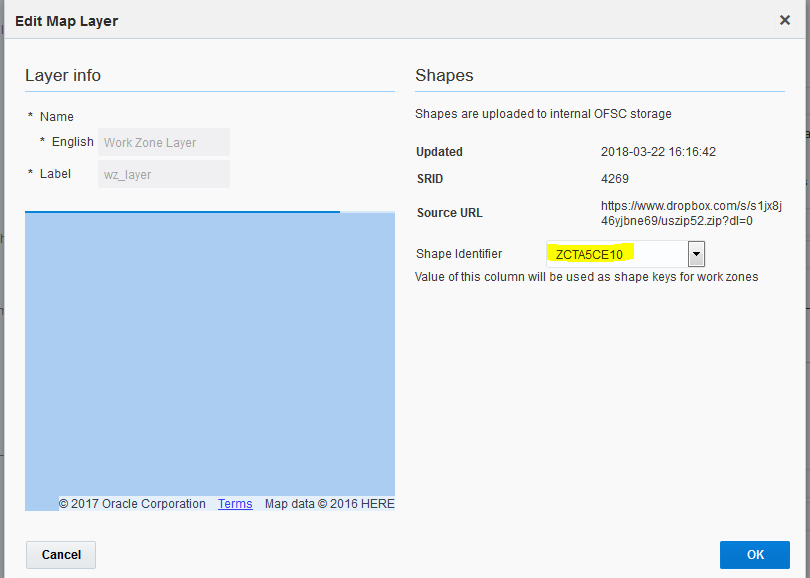 Hit OK, and then 'Save' from the Business Rules screen.
Available Languages for this Answer:
Notify Me
Login
The page will refresh upon submission. Any pending input will be lost.