Expand
Make Do or Make Better?
Answer ID 10166 | Last Review Date 04/19/2018
One of the reasons I enjoy my role as the Technical Training Program Manager for the Oracle Service Cloud Technical Support team is that I work with an Operations team who know how to customize the heck out of the Oracle Service Cloud.
When I needed a way to track the certification level or our team members, Ops provided me with a custom field. When I wanted to determine whether a training module was effective and team members were following a new procedure, Ops created a custom report with performance information. When I wanted to associate relevant trainings to specific types of incidents, an add-in was developed. And when it was suggested that our team's failure to follow a process was not due to lack of training but to a less-than-user-friendly workspace, Ops pulled together a user's group to find a way to remodel it.
Having worked for so many years with platforms that couldn't be customized because it was too expensive, too complicated or even impossible to enhance them, I confess that it's been difficult to change my mindset from, "How can I make do with what I have?" to "How can I use our Operations team and the flexibility of the Oracle Service Cloud to make what I have work even better?"
One of my favorite Oracle Service Cloud learning tweaks was probably the easiest to implement. When I mentioned to our Ops team lead that the log-in screen was underutilized real estate, he tweaked the code and handed the deed over to me. Now it's a site for microlearnings. Each time a team member logs into the Oracle Service Cloud, their attention is drawn to a process change, a specific support experience moment, or a new knowledge base answer.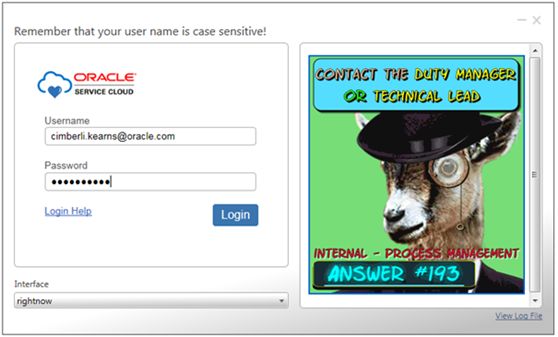 Given my limited abilities as a graphic designer, the first microlearnings were fairly primitive. I relied on the charm of our team members' pets and babies to deliver my message. Fortunately, I was able to hand the reins over to a more gifted colleague, Steve O'Neill, who has since taken microlearnings to a new level. Now when team members log into the Oracle Service Cloud, a super-short and highly entertaining Flash video greets them. If they want a deeper dive into a process, a click takes them to a knowledge base answer.
If you are interested in learning more about the clever ways our Ops team has made Oracle Service Cloud meet our business needs, add a comment to this post or drop us a note in the Suggestion Box. We'd be thrilled to share best practices.
Notify Me
Login
The page will refresh upon submission. Any pending input will be lost.