Expand
Topic browse widget for Customer Portal
Answer ID 4011 | Last Review Date 02/12/2020
Is there a way to cluster topics in the Customer Portal pageset?
Environment:
Answers, Browse topic
February 2010 and newer
Resolution:
The TopicBrowse widget is available for the Customer Portal pageset. Topic browsing is a very helpful feature that helps customers find information when they're not sure what search terms they need to use.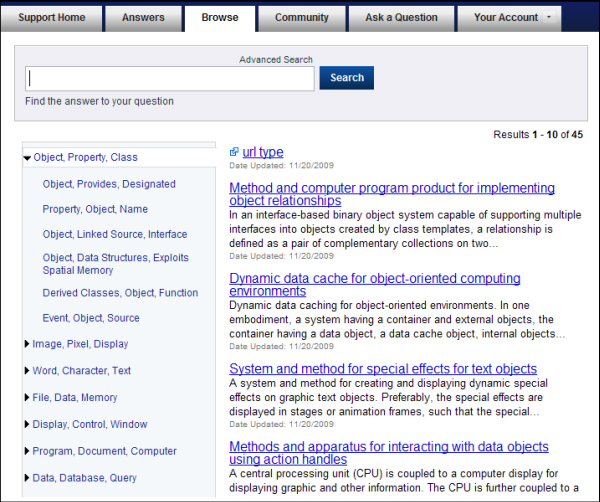 Topic Browse page in Customer Portal (click to enlarge)
The topic tree list in the left pane is expanded to reveal subtopics. Mousing over the topics display a tooltip showing the number of answers for that topic. When a selection is made in this tree, the main answer area displays the answers associated with the selected topic. Oracle B2C Service recommends that this widget be placed on its own page.

The topic labels displayed on this page are configurable by using the Clustering Configuration editor. This editor is accessed by clicking the Service Configuration button on the navigation pane and selecting Clustering and Browse under the Knowledge Base Configuration section.

For more information on the TopicBrowse Widget in Customer Portal, refer to the Widget documentation section within Administrator Dashboard.
If you need additional assistance setting up the TopicBrowse Widget, please contact your Sales Manager to schedule a consultation with Oracle Consulting Services.
Notify Me
Login
The page will refresh upon submission. Any pending input will be lost.