Expand
Navigation set option does not display in BUI
Answer ID 10415 | Last Review Date 11/19/2018
Why do staff not see the changes in the BUI after customizing the navigation set?
Environment:
Navigation Sets, Profile Options
Browser User Interface (BUI)
Oracle B2C Service
Resolution:
Log into the Service Console using the account for which you want to customize the navigation pane, add the new options you want to use in your navigation pane, then Click File (top left) and go Options > Navigation Pane > check the box "Reset Navigation Set to Profile Default".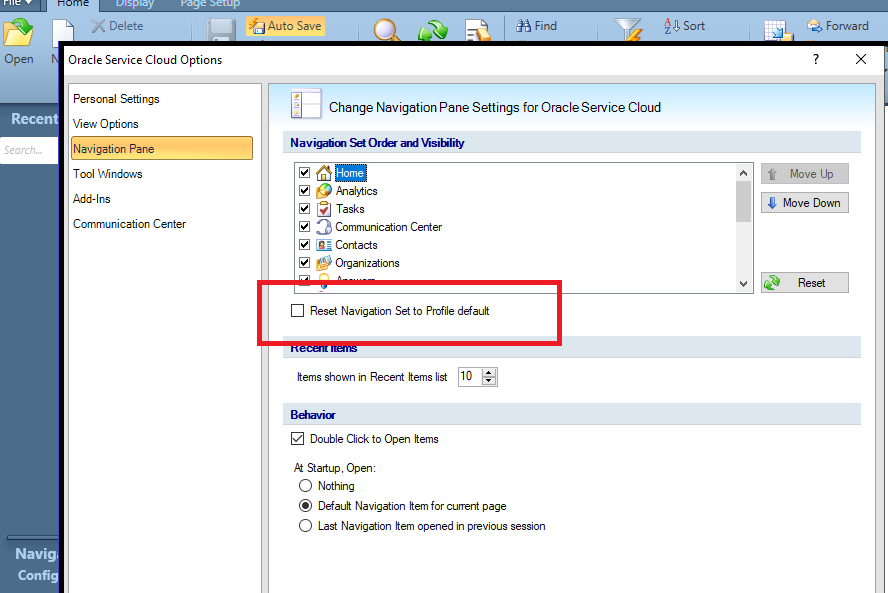 Then open the Browser you are using and access the Browser User Interface (BUI) link and then clear the Browsers cache and cookies, use Ctrl + F5 option and then log into Browser User Interface (BUI)using your account and the changes made should reflect.
If this does not resolve the issue, review Answer ID 2462: Updates to navigation sets do not take effect for more options.
Notify Me
Login
The page will refresh upon submission. Any pending input will be lost.