Expand
Imagens carregadas através do OFS Mobility apresentam tamanho grande
Answer ID 8853 | Last Review Date 09/18/2019
Por que os arquivos de imagem são tão grandes quando carregados através do OFS Mobility?
Ambiente
Todas as versões de Oracle Field Service (OFS)
Problema
Imagens são capturadas e carregadas no OFS e o tamanho não é ajustado.

Solução
Ir a Configuração > Propriedades > filtrar ou encontrar a propriedade do arquivo de "Imagem" o qual você deseja ajustar > clicar Ver ou Modificar e certifique-se que os parâmetros 'Máxima largura da figura (em pixels)' e 'Máxima altura da figura (em pixels)' possuam os valores corretos (requeridos):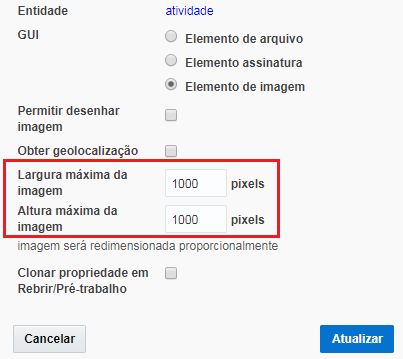 Available Languages for this Answer:
Notify Me
Login
The page will refresh upon submission. Any pending input will be lost.