Expand
Imagenes de gran tamano cargadas a traves de la interfaz movil de OFS
Answer ID 8828 | Last Review Date 09/18/2019
Por que los archivos de imagen poseen un tamano significativo cuando se cargan via interfaz movil en OFS?
Entorno
Oracle Field Service, todas las versiones
Area problematica
Las imagenes se capturan y cargan a OFS sin reduccion de tamano
Solucion
Por favor dirijase a la configuracion de la compania Configuración > Propiedades y filtre o ubique la propiedad Imagen correspondiente. Luego click en View o Modify y asegurese que los parametros 'Ancho maximo de imagen en pixeles' (Maximum picture width (in pixels)) y 'Alto máximo de imagen en pixeles' (Maximum picture height (in pixels)) poseen los valores adecuados: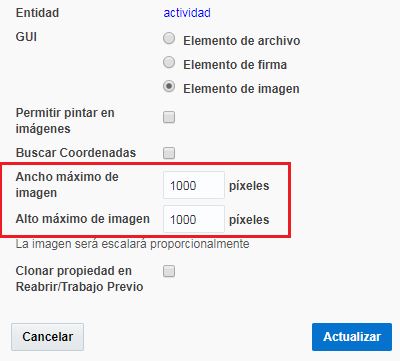 Available Languages for this Answer:
Notify Me
Login
The page will refresh upon submission. Any pending input will be lost.