Expand
Reseteando Claves en OFS
Answer ID 8826 | Last Review Date 03/29/2020
Como podemos resetear una clave de usuario en OFS?
Entorno:
Oracle Field Service (OFS)
Solución:
Para resetear una clave en OFS por favor siga los siguientes pasos:
Vaya a Resource Settings ( Atributos de Recurso ) > Users ( Usuarios ):
En la pantalla verá una lista de todos los usuarios de su compañía. Si quiere cambiar la clave de alguno de los usuarios, cliquee en el enlace de Change Password ( Cambiar clave ) en el lado derecho de la pantalla para el usuario que desee modificar.


Una vez esté en la pantalla de Cambiar Clave, indique la nueva clave y pulse OK.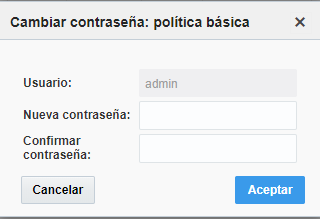 El usuario que está buscando no está en la lista?
Asegúrese que tienen el recurso de nivel más elevado en su árbol de recursos seleccionado a la izquierda de la pantalla. El listado de usuarios que aparece depende del recurso que haya seleccionado en el árbol .
You can also use search feature to narrow your results. To use the search feature, select the view button above the user list, enter the appropriate criteria, and press apply,

El enlace de cambiar clave no está visible ?
Si el enlace de cambiar clave no está visible significa que el usuario al que estás intendando cambiar la clave tiene un perfil sobre el que tu usuario no tiene permisos de administración.
Available Languages for this Answer:
Notify Me
Login
The page will refresh upon submission. Any pending input will be lost.