Expand
Large file sizes for images loaded through Oracle Field Service mobility
Answer ID 8320 | Last Review Date 09/18/2019
Why are image files so large when loaded through OFS Mobility?
Environment

Oracle Field Service (OFS), All versions

Issue

Images are taken and uploaded into OFS without being scaled.

Resolution

Go to the Configuration > Properties > filter or find the required 'Image' file property > click View or Modify and make sure parameters 'Maximum picture width (in pixels)' and 'Maximum picture height (in pixels)' have correct (required) values: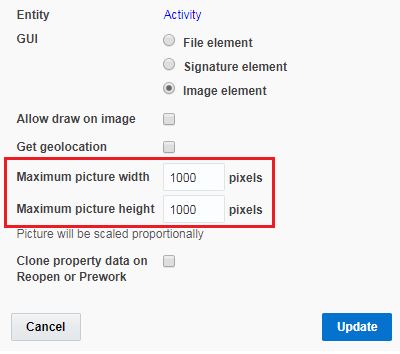 Available Languages for this Answer:
Notify Me
Login
The page will refresh upon submission. Any pending input will be lost.