Expand
Resetting Passwords in Oracle Field Service
Answer ID 7270 | Last Review Date 03/29/2020
How can we reset a user's password in Oracle Field Service?
Environment:
Oracle Field Service (OFS)
Resolution:
To reset a user's password in OFS please perform the following steps:
1. Go to Resource > Users screen
In the Users screen you will see a list of all the users in your company. In order to change the password of one of the users, locate the user and click Change Password link.

2. Once in the Change Password screen, type in a new password and click OK.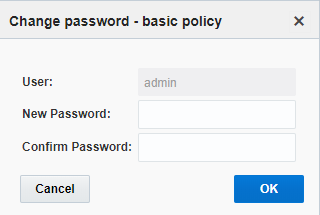 Is the user you are looking for not in the list?
Make sure you have the top level resource in your resource tree selected on the left of your screen. The user list that appears is dependent on the resource you have selected in the tree.
You can also use search feature to narrow your results. To use the search feature, select the view button above the user list, enter the appropriate criteria, and press apply,

Change password link not visible?
If the change password link is not visible this means that you do not have administration permission over that user's user type.
Available Languages for this Answer:
Notify Me
Login
The page will refresh upon submission. Any pending input will be lost.