Expand
I cannot see all my resources activities under a Bucket Aggregator
Answer ID 7268 | Last Review Date 09/06/2019
Why can't I see all my resources activities under a Bucket Aggregator?
Environment:
Oracle Field Service (OFS), Bucket Aggregator
Resolution:
If you are unable to view all your resources activities in the LIST/TIME/MAP view, it is possible the 'Apply Hierarchically' under the View option is not enabled.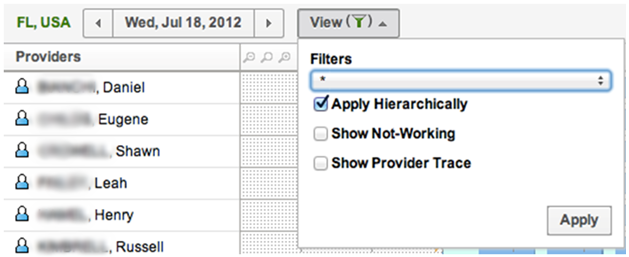 Checking 'Apply Hierarchically', will allow you to view All resources activities under the current level you have selected in the resource tree. *Note: Please make sure you click apply after checking/unchecking the box.
Available Languages for this Answer:
Notify Me
Login
The page will refresh upon submission. Any pending input will be lost.